Support Community Gathering at Uncorked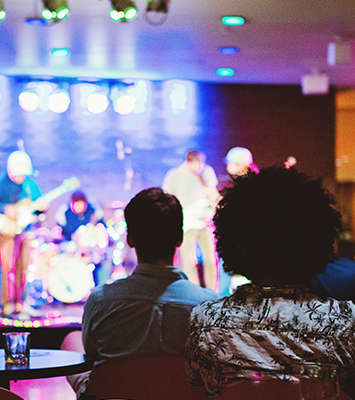 October 2018
It's a simple premise—a weekly wine tasting sponsored by the Center and featuring live performances by local musicians on selected dates. But Krannert Uncorked has become so much more than that, and now you can keep it going strong by contributing to our new Access for All campaign.
Krannert Center fulfills the multifaceted roles of classroom, laboratory, and public square. The educational mission is ever-apparent in the shops and classrooms utilized by over 600 students each day, as well as in the way performance experiences open minds and hearts. The Center's shops and classrooms, along with its theatres, also function as laboratories—for faculty, staff, students, and visiting artists (including for over 100 commissioned pieces, creative residencies, and world premieres since 1969). It's the third role—of public square—that is apparent at the welcoming, eclectic, gathering events in the Lobby and at Stage 5 such as Krannert Uncorked, which takes place almost every Thursday from 5-7pm. Yet to come this semester, patrons can experience the music of the CU Jazz Festival featuring the Brian Stark Quartet, Lauren Turk, and more.
Do you enjoy Krannert Uncorked, and are you ready to help keep our community coming together? Join the Krannert Center 50th-Anniversary Access for All Challenge today. During this two-season initiative, every dollar given will be matched by generous sponsors. Any gift, small or large, makes an impact in supporting the Krannert Center Youth Series, engagement programs such as Dance for People with Parkinson's, and other free and low-cost events such as family concerts, Krannert Uncorked, and the Opening Night Party.
Individuals, organizations, and businesses can lend their support now at KrannertCenter.com/Give. Thank you!

Gifts to this special matching challenge do not qualify for membership benefits. For information on these benefits or to help sponsor the matching portion of the challenge, please contact development [at] krannertcenter.illinois.edu or 217.333.6700.