ACCESS FOR ALL TWO-SEASON CHALLENGE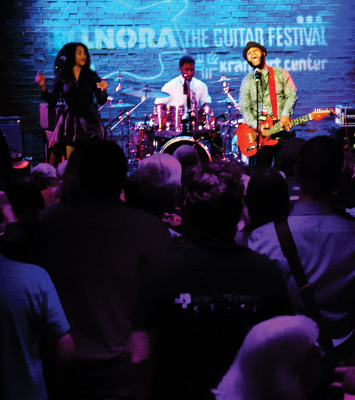 Access to the arts is at the core of the Krannert Center mission—access to diverse world-class artistry; to a welcoming, premier facility; to powerful public engagement; and to educational programs that inspire audiences of all ages. Krannert Center believes that everyone deserves to experience the life-affirming power of the performing arts.
In celebration of Krannert Center's 50th anniversary and with a strong commitment to the infinite possibilities of discovery, hope, and joy revealed through the arts, community members, alumni, and friends are encouraged to make a gift to a new matching challenge that will ensure everyone in the region can have access to the arts at the Center. The Access for All challenge will provide support to the Krannert Center Youth Series, engagement programs such as Dance for People with Parkinson's, and other free and low-cost events such as family concerts, Krannert Uncorked, and the Opening Night Party. During Krannert Center's Access for All Two-Season Challenge, each gift received will be matched by generous sponsors. Any gift, small or large, makes an impact.
Individuals, organizations, and businesses can lend their support now at KrannertCenter.com/Give. Thank you!
Gifts to this special matching challenge do not qualify for membership benefits. For information on these benefits or to help sponsor the matching portion of the challenge, please contact advancement [at] krannertcenter.illinois.edu or 217.333.6700.