Illinois Theatre: Psh*tter! A Drinking Song for the Year of Our Lord 2020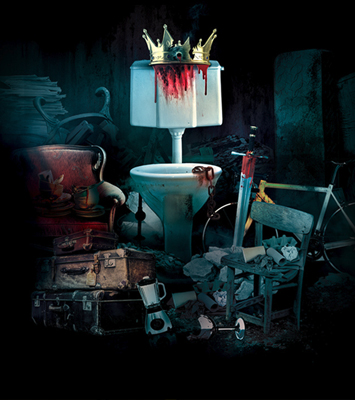 October 2020
Lisa Gaye Dixon, director and producer, says that Illinois Theatre's latest endeavor, a production originally slated for March 2020, is a "mélange of theatrical acting styles, writing genres, and design forms, all created and coalesced together from the slyly brilliant mind and deeply open heart of playwright Henry Wishcamper."
When the COVID-19 pandemic hit in March 2020, Illinois Theatre was already nearing the end of the rehearsal process for Wishcamper's politically satirical Psh*tter! A Drinking Song for the Year of Our Lord 2020. Indeed, the set was already fully constructed on the Colwell Playhouse stage at Krannert Center for the Performing Arts. The cast was able to give one performance—for fellow faculty, staff, and students—before the facility closed for months, leaving the set and the production itself in stasis. As the fall semester emerged under new COVID-19 protocols and restrictions, Dixon has once again led the production. In some cases, recasting was necessary due to graduations and other commitments. Dixon and her team have used a mix of virtual and distanced rehearsals, new physically distanced blocking and fight sequences, costumes redesigned to include masks, a designated COVID production supervisor, and a filming process, also directed by Dixon, that will allow for the digital delivery of this timely piece.
Henry Wishcamper, member of the Goodman Theatre Artistic Collective, has updated his 2007 The Polish Play as Psh*tter! A Drinking Song for the Year of Our Lord 2020, which cunningly tackles the divergent and convergent themes of history, politics, humanity, and personal choice with biting satire and a good measure of offense. Hysterically funny but definitely NSFW, this mash-up of Shakespeare's Macbeth and Alfred Jarry's Ubu Roi (itself a parody of Shakespeare's Macbeth, Hamlet, Julius Caesar, Richard III, and The Winter's Tale) offers an interpretation that remains just right for this moment in time and upon this particular political landscape.
In a world of madness and farce, Dixon and her creative team have shaped the grotesque journey of Daddy Ubu and Momma Ubu through corruption, temptation, supernatural predilection, and the savage pursuit of power while employing puppets, sound effects, and somehow, the entire Polish army, too.
Psh*tter! A Drinking Song For the Year of Our Lord 2020 was developed, in part, with assistance from the Orchard Project, Ari Edelson, Artistic Director.
Contains adult content.
A link to view this filmed performance will be available from Dec 3 through Dec 12 on the event page.