Building Community at the Opening Night Party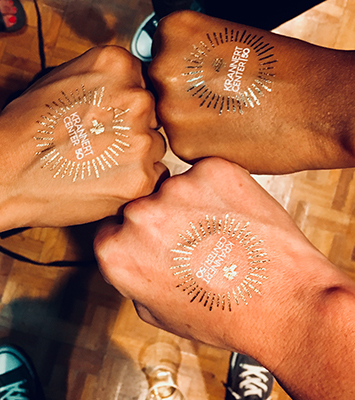 On Friday, September 7, 2018, Krannert Center's two-season 50th-anniversary celebration burst forth at the free Opening Night Party. In the central lobby, over 2000 revelers of every age grooved together to the sounds of Ranky Tanky, Baracutanga, New Orleans Jazz Machine, and AJ Ghent; created crafting masterpieces; and united with friends old and new. Throughout the night, students, schoolkids, university faculty and staff, and community members donned anniversary-themed temporary tatooes, screenprinted posters, visited local food vendors, sipped tasty beverages, and delighted in pop-up performances by Mucca Pazza. And everywhere the eye could see, people were coming together through the power of shared live performances.
Access for all to experiences like the Opening Night Party and to the life-affirming power of the performing arts are at the core of the Krannert Center mission. In celebration of Krannert Center's 50th anniversary, patrons are encouraged to make a gift to the new Access for All matching challenge, which will provide support to the Krannert Center Youth Series, engagement programs such as Dance for People with Parkinson's, and other free and low-cost events such as family concerts, Krannert Uncorked, and the Opening Night Party.
During Krannert Center's Access for All Two-Season Challenge, every dollar given will be matched by generous sponsors. Any gift, small or large, makes an impact. Individuals, organizations, and businesses can lend their support now at KrannertCenter.com/Give. Gifts to this special matching challenge do not qualify for membership benefits. For information on these benefits or to help sponsor the matching portion of the challenge, please contact development [at] krannertcenter.illinois.edu (subject: Access%20for%20All) or 217.333.6700.