Theatre, Dance, and Music Present Joint Production of Cabaret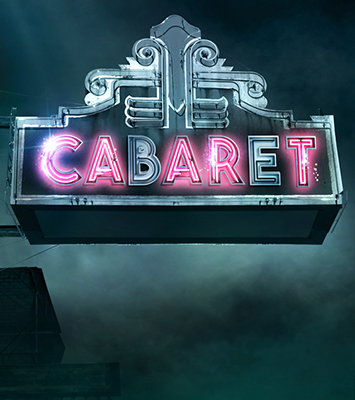 February 2020
As part of Krannert Center's two-season 50th-anniversary celebration, Illinois Theatre, Dance at Illinois, the School of Music, and Lyric Theatre @ Illinois will present a joint production of John Kander and Fred Ebb's Tony Award-winning 1966 musical, Cabaret, February 27, 2020 through March 8, 2020. Kander and Ebb's gritty musical drama, with book by Joe Masteroff, is set during the Weimar Republic in 1929 and 1930 Berlin. At the infamous Kit Kat Klub, the sexually liberated entertainment features the Emcee, British singer Sally Bowles, and a raucous and tantalizing ensemble of performers that promises to sweep away the looming uncertainties outside, while all struggling with the undercurrents of their own lives.
This joint production, artfully staged in the Center's Tryon Festival Theatre, will be led by director Latrelle Bright, music director Julie Gunn, and choreographer Elliot Reza Emadian and mines the complexities of love, fear, and identity amidst the rising current of the impending Second World War. Cabaret bursts with memorable musical numbers like Wilkommen; Maybe This Time; Two Ladies; Mein Herr; Money, Money; and of course the titular Cabaret. Audiences can expect stunning technical design including automated sets; imaginative costuming, wigs, and makeup; and sizzling performances from a phenomenal cast.
This performance includes smoke, haze, violence, nudity, and profanity.
Cabaret is presented by arrangement with TAMS-WITMARK. www.tamswitmark.com