New Work Residency with Jonah Bokaer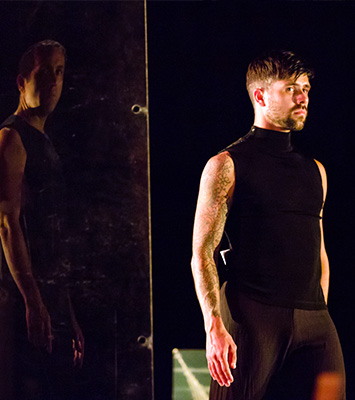 August 2017
Choreographer and Visual Artist Jonah Bokaer is the eighth creator to join Krannert Center for the Andrew W. Mellon Foundation-funded Intensive Development Laboratory. Bokaer, who has danced previously at the Center with Merce Cunningham Dance Company, returned in August 2017 with his own company as part of Krannert Center's ongoing commitment to providing emerging and established artists space and resources to develop a new work. Jonah, like past participants in the Intensive Development Laboratory, worked with Krannert Center/Illinois Theatre's "Level 21" students who are studying design, technology, or management. His aim was to explore themes of dislocation as he further developed two opera productions—one, Dido and Aeneas, a canonical tale of Middle Eastern/North African reclamation; and the other, Neither, a modern, abstract work about an "unspeakable home," by playwright Samuel Beckett and composer Morton Feldman.
Neither, for solo soprano and orchestra, premiered in 1977 at Teatro dell'Opera di Roma, with sets and costumes by Arte Povera icon Michelangelo Pistoletto. Beckett's English libretto speaks of being "between two lit refuges." Dido and Aeneas, a 1687 opera by Henry Purcell with libretto by Nahum Tate (in English), tells of the wounded warrior Aeneas who falls in love with Dido, queen of Carthage, but who must flee Tunisia, and his lover, to fulfill the founding of Rome. Bokaer said the story reminded him of "the waves of human migration from Greece, Turkey, the Middle East, and North Africa. The arrival of Aeneas in Carthage after the fall of Troy sounds hauntingly like what we read about every day. He's a wounded warrior figure. Perhaps at the time these events occurred, he was seeking refuge? I think it's very rich for revisiting this work through that lens."
In Bokaer's versions of the two productions, the dancers are all of Middle Eastern or North African ancestry. He wants the operas to raise questions about the unrest in that region and America's interactions there. Bokaer called the two operas an "iconoclastic pairing," but it is important to note that they will be performed by the same soprano and within the same scenography (also developed during the Krannert Center residency). The visual elements play with different states of transparency—including mesh, plexiglass, and other textiles—and complement a lightscape designed to work in both indoor and outdoor spaces. Both productions will premiere in the 2018-19 season, but Jonah will return to Krannert Center much sooner with his collaborative production Rules of the Game on November 16. The Krannert Center-commissioned, surrealist work features visual elements by Daniel Arsham and an original score by singer and producer Pharrell Williams. The program that evening will also feature Why Patterns, featuring 10,000 ping-pong balls and the music of Morton Feldman, and RECESS, a solo dance work, with score by the Greek composer Stavros Gasparatos.