The New Season Ignites with Diverse Artistry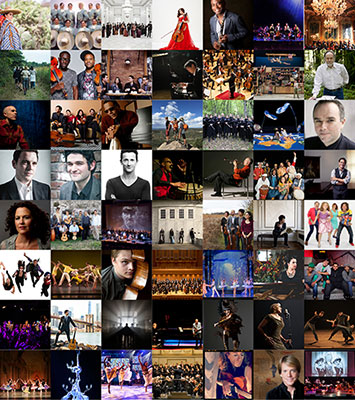 August 2016
The new season at Krannert Center will burst forth with a high-energy Opening Night Party on Friday, September 9, 2016 featuring The Pedrito Martinez Group, Davina and The Vagabonds, and Red Baraat. As the opening wave of season activity continues, exceptional artistry from across the spectrum awaits audiences. Victor Quijada's RUBBERBANDance Group, jazz phenomenons Joshua Redman and Brad Mehldau, kids' favorite The Laurie Berkner Band, a cine-concert version of The Triplets of Belleville, and the Chicago Symphony Orchestra are just a few of the exceptional offerings that will grace the Center's diverse stages in the first months of the season.
In the classical realm, the Center will welcome pianist Lang Lang, Ensemble Basiani, the Venice Baroque Orchestra, the National Symphony Orchestra of Ukraine, Akademie für Alte Musik Berlin, the St. Louis Symphony, Jupiter String Quartet, and emerging young classical artistry. The spring semester will also feature a month-long celebration entitled Sonic Illinois that will celebrate the University of Illinois' long-standing presentation of "new" music.
Music, dance, and acrobatics will also be featured from the Shanghai Acrobats of the People's Republic of China, Lucky Plush Productions' new piece Trip the Light Fantastic: The Making of SuperStrip, Aida Cuevas and Mariachi Reyna de Los Angeles, singer/songwriter Susan Werner, The Havana Cuba All-Stars, Mark Morris Dance Group and Music Ensemble, Red Sky, Russian National Ballet Theatre, Step Afrika!, the show Cuisine & Confessions from the Quebec-based cirque performers of Les 7 doigts de la main, and the moving theatrical piece WILDERNESS by En Garde Arts, among many others.
Dynamic performances by Dance at Illinois, Illinois Theatre, and Lyric Theatre @ Illinois, as well as from Sinfonia da Camera and the Champaign-Urbana Symphony Orchestra, are also featured in the new season. Start browsing by the month now or download the 2016-17 Krannert Center season book.