Major Accessibility Upgrades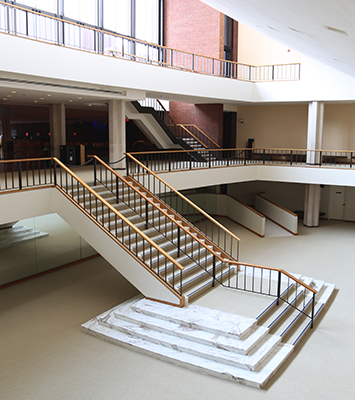 August 2021
Krannert Center holds a long-standing commitment to improving accessibility around the arts, seeking ways in which the facility itself can be more navigable for everyone in our community. Prior to the pandemic, plans were being made to begin a major construction project to provide improved accessibility in the Center's theatres. Beginning in the summer of 2020 while the theatres were not in use due to COVID-19 restrictions, the university's Facilities and Services staff fast-tracked this work, resulting in exciting renovations that offer greater inclusivity at Krannert Center events.
Now, completed accessibility upgrades to Tryon Festival Theatre include wider lower-foyer side entrances and new carpet in the lower foyer with a lower pile for easier wheelchair use. Inside the theatre, the "score" seats across the back of the main floor have been removed to create space for additional wheelchair-accessible spots across the back-left and back-right sides.
In the Foellinger Great Hall lower and upper foyers, the carpet was also replaced. Along the northwest wall of the lower foyer, a new opening and a ramp now allow wheelchair navigation from Krannert Center's north elevator to this lower foyer. The Great Hall's score seats have also been removed, along with the back row of seating, allowing wheelchair-accessible and no-step spots across the back of the main floor. In the balcony, select flooring and steps are leveled to allow more few-step and no-step seats and wheelchair-accessible spots. The public restrooms in the lower foyer have also been upgraded to fully comply with the Americans with Disabilities Act standards.
Made possible by a recent donation, Krannert Center has a new fleet of manual wheelchairs available in widths of 16, 18, 20, and 24 inches, further promoting the Center's values of inclusivity and accessibility. They can be requested for use in advance through the Ticket Office or through Patron Services staff upon arrival, and staff members or volunteers are available to help transport guests to and from the parking garage and the theatres as needed.
Accessibility improvements will continue into 2022 with renovations to Colwell Playhouse next summer and the addition of push bars inside and outside the elevators.
Learn more about Krannert Center's enduring commitment to accessibility.