Krannert Uncorked Fall 2019 Musical Performances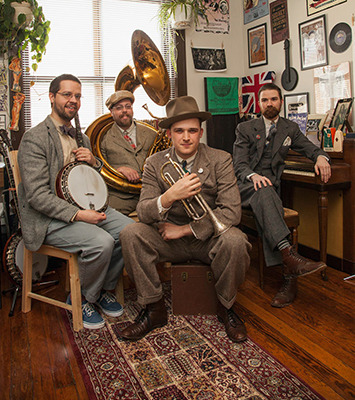 Krannert Center is home to many performance venues, including Stage 5, a unique location designed for both music and gathering. Stage 5 is also the home of Krannert Uncorked—the Center's Thursdays at 5 event that features live, local music; free wine tastings; and opportunities for visiting with friends old and new.
This season, Krannert Uncorked will feature a wonderful variety of diverse music by local artists, School of Music faculty, and College of Fine and Applied Arts students. The Coleman-Gray-Spencer Trio will offer jazz standards and originals on October 3 and Lyric Theatre @ Illinois will take the spotlight on October 17 with their showcase of selections from upcoming Lyric performances.
On October 24, Krannert Center will collaborate with the Champaign-Urbana Folk & Roots Festival, welcoming The Gaslight Squares with special guest Hot Club of Urbana. The Gaslight Squares are a traditional jazz band based in St. Louis, Missouri. Led by British trumpet player TJ Muller, they play a variety of both jazz and blues. Hot Club of Urbana is a collection of local musicians who pay tribute to the musical legacy of Django Reinhardt and Stephane Grappelli.
Come meet the Krannert Center Ambassadors at the November 7 edition of Uncorked, with Push4Art—an arts initiative focused on partnering the Center with student talent to create pop-up performances. Patrons can come and experience wonderful student talent while supporting the Ambassadors' efforts to foster a broad artistic community.
Bruiser and the Virtues with Dan Henry on bass, Jonny Beckett and Peter Roubal on tenor saxophone, Jeff Magby on drums, and Bruce "Bruiser" Rummenie on guitar and vocals will perform on November 14.
Additional musical performances will be announced soon for October 31, November 21, and December 5. Gather with friends, make new connections, and enjoy all that Krannert Uncorked has to offer this this semester!