Intermezzo Cafe Quinoa Salad Recipe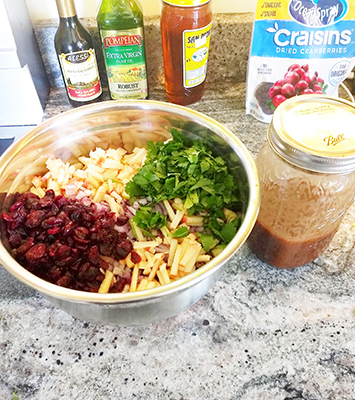 May 2020
Craving something packed with flavor and crunch but trying to keep it healthy during these long days? Give this quinoa salad recipe from Intermezzo cafe a try!
Intermezzo Cafe at Krannert Center Quinoa Salad Recipe
Ingredients
2 cups dry quinoa
1/2 of a large red onion, finely chopped
1/2 of a Fuji or Honeycrisp apple, skin on, finely chopped
1 cup dried cranberries
1 cup coarsely chopped cilantro
Dressing
1 cup olive oil
1/2 cup balsamic vinegar
1 tbsp agave syrup, honey, or other sweetener
1 tsp salt
Instructions
Cook quinoa to package directions and cool. Add onions, dried cranberries, apples, and cilantro.
Combine dressing ingredients in a Mason jar and shake well (or just whisk to combine). Add dressing to salad, stir well, and enjoy!