Gratitude as the 50th Anniversary Closes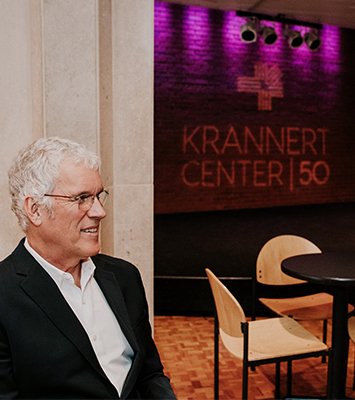 April 29, 2020
Dear friends,
As you may recall, we had planned to host a special gathering at Krannert Center this Friday, May 1, 2020, to mark the conclusion of our two-year celebration of the Center's 50th anniversary. Krannert Center was envisioned and established during a time of great unrest, and we find ourselves today in the midst of another great trial. We hold in our hearts those who are suffering, and we look forward to the day when we can again gather to experience—together—the restorative power of the performing arts.
And though we are not able to physically gather at the Center at this time to bring closure to the celebration of our 50th, we invite you to take a moment, wherever you are, to reflect on the Center's past and future, in appreciation for those who animated its life over the past five decades and in anticipation of better days ahead.
We will be thinking warmly of you and of all those to whom the Center owes its vibrant history and its tremendous potential for the next 50 years and beyond.
Cheers to you, to the Center, and to the future,
Mike Ross
Krannert Center Director