February Family Concert Artist Announced!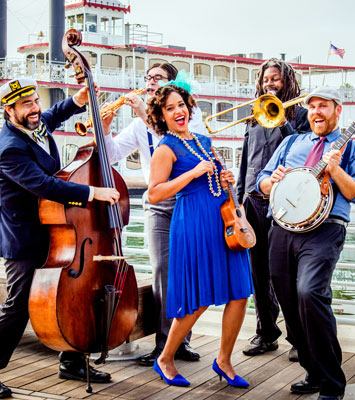 July 2018
Krannert Center has made it a tradition to present a free family concert each February to give young audiences and their grown-ups access to one of the stars of the vibrant children's music scene. This season, the Saturday, February 16 Free Family Fun Concert will feature the playful lyrics and joyful grooves of Jazzy Ash and the Leaping Lizards.
Jazzy Ash grew up in a musical household and is equally influenced by her Caribbean and New Orleans heritage. After becoming a mother herself, she earned a degree in early childhood development and founded Leaping Lizards Music, her music education program. Jazzy Ash and the Leaping Lizards, which currently includes musical stylings on ukulele, banjo, guitar, accordion, fiddle, bass, trombone, saxophone, washboard, and percussion, have performed across the United States, from Lincoln Center in New York City to Getty Center in Los Angeles. The ensemble emphasizes the power of performing arts education, including jazz history, and has created workshops for the National Head Start Association, the National Association for the Education of Young Children, and others. Please join Krannert Center for a morning of interactive music and craft activities on Saturday, February 16!