Explore the 2019-20 Season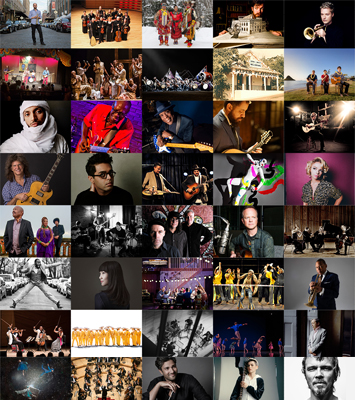 Krannert Center's 50th season will kick off with the eighth biennial ELLNORA | The Guitar Festival from Thursday, September 5, to Saturday, September 7. The festival features "a prodigious array of the world's most distinctive and influential guitarists" from around the globe (Premier Guitar). 2019 ELLNORA artists hail from Madagascar, Niger, Korea, Gambia, France, Bosnia, China, Brazil, Germany, and throughout the United States, representing diverse musical genres, instrumental traditions, and playing styles. Audiences are invited to attend both ticketed and free performances by artists including award-winning blues legend Buddy Guy, French-born gypsy jazz musician and ELLNORA alumnus Stephane Wrembel, ever-revolutionary musical influencer Pat Metheny, classical guitarists Bokyung Byun and Jason Vieaux, rock and rollers Samantha Fish, Luther Dickinson, and The Bluebonnets, and genre- and culture-fusing Rafiq Bhatia, Sona Jobarteh, and Sávila. Uncommon combinations also abound at ELLNORA with both a guitar/clarinet performance (Anat Cohen and Marcello Gonçalves) and the Balkan music guitar/accordion duo Aritmia (with Merima Ključo and Miroslav Tadić). Complete details on ELLNORA | The Guitar Festival can be found at EllnoraGuitarFestival.com.
Throughout its 50-year history, Krannert Center has always demonstrated international leadership in the presentation of classical music, and for the 2019-20 season, the Great Hall Series will welcome a global sampling of exceptional classical artists, including Venice Baroque Orchestra with mezzo-soprano Ann Hallenberg, Krannert Center favorite Takács Quartet, Michael Barenboim and the West-Eastern Divan Ensemble, St. Louis Symphony with violinist Gil Shaham, pianist Murray Perahia, and Chicago Symphony Orchestra—which will perform for the 36th time at the Center. The classical realm also includes The Song of the Earth—Art, Science, and Humanity project, an elegant meeting of science and performance inspired by Mahler's Das Lied von der Erde, featuring Tai Ji master Chungliang Al Huang, Nathan Gunn, and Julie Gunn and created in collaboration with the Illinois Emerging Digital Research and Education in Arts Media (eDream) Institute and the Carl R. Woese Institute for Genomic Biology. In the chamber and young artist realms, patrons can look forward to performances by the UI School of Music's resident quartet Jupiter String Quartet with special guests pianist Jon Nakamatsu and vocalist Tyler Duncan, pianist Yi-Nuo Wang, cellist Jonathan Swensen, violinist Grace Park, and many more. Other classical music performers of note include The Four Italian Tenors and St. Olaf Choir.
The Center's Big Mix Series launches with the nonstop excitement of ELLNORA | The Guitar Festival and continues with performances by David Roussève/REALITY (performing the Krannert Center co-commissioned work Halfway to Dawn), onetime Champaign-Urbana resident and acclaimed drag artist Sasha Velour, trumpet phenom Chris Botti, Lyric Theatre @ Illinois co-directors Nathan and Julie Gunn in the cabaret performance Drytown, Jazz at Lincoln Center Orchestra with Wynton Marsalis, Tere O'Connor Dance (led by Professor O'Connor performing Long Run, supported by the University of Illinois), vocalist Somi, Chick Corea Trilogy with Christian McBride and Brian Blade, Shanghai Ballet, Anna Deavere Smith, Mariachi Herencia de México, and Mark Morris Dance Group and Music Ensemble.
While the Center encourages families to enjoy many kinds of events together, the events in the Family Fun Series are especially appropriate for the young and young-at-heart. For the 2019-20 season, those will include performances by Bizhiki Culture & Dance Company, Isango Ensemble, Trick of the Light Theatre, Step Afrika!, Cirque FLIP Fabrique, and Cahoots NI among others. The Ticket Office is pleased to answer any questions about family-friendly services and programs: 217.333.6280 or kran-tix [at] illinois.edu.
Throughout the 50th-anniversary two-season celebration, Krannert Center is continuing to collect stories from the past five decades. People are encouraged to share memories about the impact Krannert Center has had on them at KrannertCenter.com/StoryCollection.
The entire season, including programming from Dance at Illinois, Illinois Theatre, Lyric Theatre @ Illinois, Champaign-Urbana Symphony Orchestra, and Sinfonia da Camera, can be previewed at KrannertCenter.com now. In early July, season books will be mailed to Krannert Center mailing list members and will be available at the Center. Tickets for the 2019-20 season will go on sale Saturday, July 20, at 10am on KrannertCenter.com, by calling 217.333.6280 (800.KCPATIX), or in-person at Krannert Center for the Performing Arts, 500 South Goodwin Ave., Urbana, Illinois.