ELLNORA Free Lectures, Demonstrations, and Special Amenities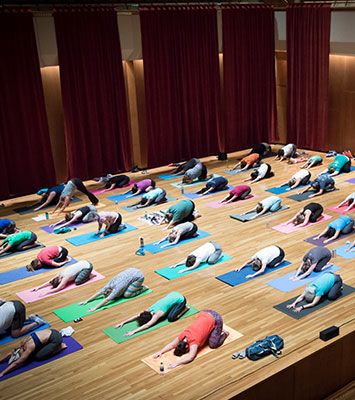 August 2019
ELLNORA | The Guitar Festival, Krannert Center's internationally recognized, biennial event not only features performances from an array of the world's most influential guitarists but also engaging, FREE educational programming including lectures, workshops, and panel discussions for patrons to enjoy.
The interactive programming at ELLNORA | The Guitar Festival begins on Friday, September 6, with a live broadcast of Illinois Public Media's The 21st—a public radio talk show that celebrates news, culture, and the stories that matter to Illinois. The host will welcome to-be-announced ELLNORA guests for this new festival feature. The public taping begins at 11am in Krannert Center's Studio Theatre.
ELLNORA welcomes Fabi Reyna—founder of She Shreds magazine, the only print publication in the world dedicated to women guitarists and bassists—as she hosts Guitar as a Creative, Political, and Emotional Tool on Friday, September 6, at 1:30pm. In this lively panel discussion, Fabi will lead a conversation about gender and genre in the music industry. Reyna's band Sávila, a cumbia/Latin/world/R&B-inspired ensemble, will perform a free public show on Saturday, September 7, at 1:30pm on Stage 5.
Rhode Island-based French luthier Rachel Rosenkrantz hosts a talkback discussion with guest artists following the Friday, September 6, noontime performance of Across the Sea, featuring Jeff Peterson, Greg Sardinha, and Tsun-Hui Hung.
On Friday at 2:45pm in the Studio Theatre, guitarist Steve Dawson hosts a live taping of his podcast Music Makers and Soul Shakers with Steve Dawson. Dawson's podcast features thoughtful and in-depth interviews with artists, musicians, producers, and engineers. His guest will be fellow ELLNORA artist Molly Tuttle.
Wrapping up Friday's panels at 4pm in the Studio Theatre is Rachel Rosenkrantz's panel discussion entitled Innovation in Playing, Innovation in Building. ELLNORA artists Luther Dickinson, Kaki King, Tony McManus, and Jason Vieaux will join her to explore long-standing guitar-making traditions and the modern craft.
New York Guitar Festival founder and ELLNORA Artistic Advisor David Spelman will host a talkback event following the North American premiere of Kaki King's DATA NOT FOUND on Friday, September 6.
Saturday, September 7, opens with Yoga with GLOW by Lola at 9am in the Orchestra Rehearsal Room. Attendees are invited to start their day with a refreshing yoga session led by Lola Pettinger with live musical accompaniment from Grammy Award-winning slack key guitar player Jeff Peterson.
Rachel Rosenkrantz returns to host a free workshop at 11am on Saturday morning entitled Anatomy of Sound, where patrons can get hands-on with the detailed craft of guitar making.
Two rounds of Sonic Meditations on Saturday, September 7, invite guests to participate in sonic rejuvenation through the wisdom of Reverend Florence Caplow paired with a short acoustic music set. At 5pm, acclaimed classical guitarist Bokyung Byun will provide the musical portion of the Sonic Meditation with Guido Sanchez-Portuguez offering his classical guitar skills at the 8pm session. Both Sonic Meditation events will take place on the Colwell Playhouse stage with no late seating.
View the full schedule of ELLNORA events and performances.
The ELLNORA Festival App is available for download now at:
Android: https://play.google.com/store/apps/details?id=fm.golive.ellnoratheguitarfestival8d00f944
IOS: https://apps.apple.com/us/app/ellnora-the-guitar-festival/id1272926884?ls=1