ELLNORA Added Events & Updates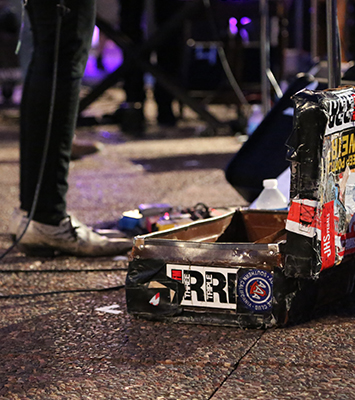 September 2017
ELLNORA | The Guitar Festival 2017 is finally upon us! There's an amazing lineup, incredible energy, extra amenities, and special events packed into every minute of the festival, and we've got the scoop on the most recent additions!
You can now download the fabulous new ELLNORA app on iTunes or Google Play.
Thursday
6pm: Opening Night Party— Try your hand at guitar pick jewelry-making or screen printing with Weiskamp, stop by the Studio Theatre for a showcase of mini-performances, shop festival merchandise at the ELLNORA Store at Promenade, visit the four-panel guitar mural on the terrace and Bubble Man in the Amphitheatre, marvel at the community guitar gallery hung throughout the Lobby, help your little patron revel at the Koester & Bradley craft area, and be sure to recharge with delicious food options in the tent including Siam Terrace, Rick's Bakery, Fired!/Smoked, El Oasis, Caribbean Grill, Piato, and Jet's Pizza! Download the menu.
Friday
1:15pm: Lecture/Demonstration—An Illinois Legend: Letritia Kandle and Her Grand Letar
2:30pm: Talk Event—Wisdom of the Elders: Presenting Janis Ian (moderated by ELLNORA artistic advisor David Spelman, founder of the New York Guitar Festival)
4:15pm: Los Angeles Guitar Quartet: Pachelbel's "Loose" Canon
4:25pm: Los Angeles Guitar Quartet: On the Road to the Sun (moderated by Krannert Center Director Mike Ross)
Saturday
11am: Family Fun Time—following the 10am Recess Monkey performance, stick around for ukulele mini-lessons, donut sales, the Bubble Man, and an instrument petting zoo!
Get the full schedule at https://krannertcenter.com/ellnora.