Dance for People with Parkinson's Celebrates 10th Anniversary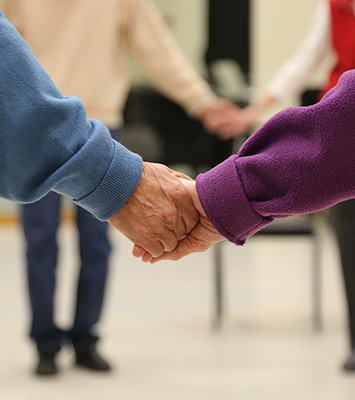 November 2019
In November 2009, Krannert Center and staff from Dance at Illinois, in partnership with the Unity Parkinson's Disease Support Group and Carle Clinic, began offering a monthly Dance for People with Parkinson's program. This free series of dance-based classes was led by original instructors Kate Kuper and Marianne Jarvi and was inspired by the Center's long-time, artistic collaborators Mark Morris Dance Group. This program is aimed at assisting participants with the preservation and improvement of balance, flexibility, and strength, while also building a community of people with Parkinson's and their supporters. In the decade since its inception, there have been numerous dance and music-filled moments of inspiring impact through these classes—moments of discovery, respite, joy, and commonality—and they've all been experienced together in a safe and welcoming space where the belief that everyone deserves to have access to the life-affirming power of the arts is upheld each day. 
Instructors Laura Chiaramonte and Kate Insolia and accompanist Beverly Hillmer now lead the uplifting and free-of-charge classes that are set to familiar music, on one Friday of each month at Krannert Center's Level 2 Drama Rehearsal Room. People with Parkinson's Disease and other movement challenges and their supporters are welcome at these classes and no prior registration is required. Whitney Havice, Krannert Center's Ticket Services Director and the staff liaison for the program says,
"The Dance for People with Parkinson's program is an incredibly special demonstration of what happens when you are able to explore the creative empowerment of dance and the positive impact it can have on the mind, body, and soul, as well as the connections and sense of family that it can create within communities."
Those interested in additional information about attending Dance for People with Parkinson's can contact Havice at whavice@illinois.edu or 217.244.3963. Patrons interested in supporting this free series can contact Krannert Center Advancement at advancement@krannertcenter.illinois.edu or 217.333.6700.