DANCE AT ILLINOIS ANNOUNCES 2018–19 SEASON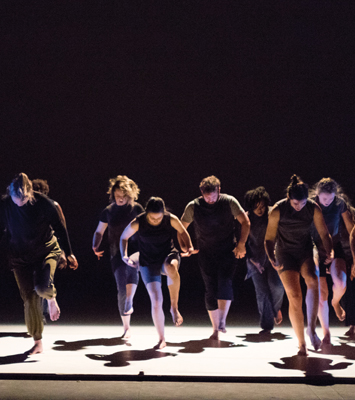 In 1969, the Department of Dance officially became a part of the College of Fine and Applied Arts, moving into our home in Krannert Center for the Performing Arts. Dancing 50: Moving Forward/Looking Back will be a yearlong celebration of Dance's 50th birthday. In the 1960s, Dance hosted the first collegiate dance guest artist residency—with Merce Cunningham and John Cage. Through five decades, Dance at Illinois has uniquely contributed to academia by integrating the academic and professional worlds, and today, the department continues to lead the field. Indeed, The New York Times has called the department ". . . a hotbed of choreographic innovation."
In this milestone birthday year, Dance at Illinois shines a light on the extraordinary accomplishments of its alumni—artists who cultivated a passion for dance in the prairie of Illinois and then took their contributions across the globe. The project series Dancing 50: Moving Forward/Looking Back will bring alumni home to Illinois to share their dance research, teaching, and life's travels. It includes a four-day Alumni Weekend festival surrounding November Dance; collaborative partnerships between faculty and alumni to create new dances for current students to perform in November Dance, February Dance, and Studiodance I; and first-time performances on Krannert Center's Marquee visiting artist series by the professional companies of Dance at Illinois faculty members Cynthia Oliver (2018-19) and Tere O'Connor (2019-20).
Tickets for the 2018-19 season will go on sale Saturday, July 14, at 10am on KrannertCenter.com, by calling 217.333.6280 (800.KCPATIX), or in-person at Krannert Center for the Performing Arts, 500 South Goodwin Ave., Urbana, Illinois. Single tickets for Dance at Illinois productions are $22 / Senior $21 / Student $17 / UI Student and Youth $10, Single Tickets for Studiodance events are $17 / Senior $16 / Student $16 / UI Student and Youth $10. Group and series discounts are available. Patrons who contribute at the $250 level and above will enjoy early ticket-ordering privileges.
2018-19 PERFORMANCES
November Dance: Dancing 50: Moving Forward/Looking Back
Colwell Playhouse: November 8–10, 2018
November Dance provides a unique historical perspective, as all four choreographers have a long and rich history with Dance at Illinois. Faculty members Rebecca Nettl-Fiol (BFA '75), Linda Lehovec (MFA '96), and Professor Emeritus Renée Wadleigh (MFA '91) are all graduates of the program, and the Head of the Dance Department, Jan Erkert, was a frequent guest artist at Illinois from 1980–89. Professor Nettl-Fiol will co-create a piece for Dance students with alumna Melanie Bales (MFA '83). Professor and Department Head Jan Erkert will reconstruct a solo titled Antigamente, originally built for alumna Juli Hallihan-Campbell (BFA '84, MFA '92), a member of Erkert's company for over 10 years. Professor Lehovec will present work created in partnership with alumna Paige Cunningham (MFA '07), a former dancer with Merce Cunningham Dance Company. Finally, Professor Renée Wadleigh will return from retirement to create her 50th work on Dance at Illinois students.
February Dance: Dancing 50: Moving Forward/Looking Back
Colwell Playhouse: February 7–9, 2019
Continuing Dance at Illinois' 50th anniversary celebration, Professor C. Kemal Nance will collaborate with three alumni—Rick Perry (BFA '15), Grant Hill (BFA '18), and Aaron-Raheim White (BFA '11)—to create a men's dance titled The Adventures of Antoine in Wonderland, performed to music by Stevie Wonder. Professor Cynthia Oliver will explore Afrofuturism with three alumnae—Leslie Cuyjet (BFA '04), Jessica Pretty (MFA'16), and Angie Pittman (MFA '15)—in collaboration with undergraduate and graduate students. Endalyn Taylor's rich movement language will be performed by alumnus Aaron-Raheim White (BFA '11) along with current students. Professor John Toenjes will work in virtual spaces with alumna Renata Sheppard (MFA '07), creating a technologically complex work for the Krannert Center stage.
Studiodance I: Dancing 50: Moving Forward/Looking Back
Studio Theatre: February 28–March 2, 2019
In Program A, emerging choreographic artist and Master of Fine Arts candidate Charlie Maybee will present his contemporary explorations of the genre of tap dance. The program will include Dance alumni Isiah Asplund (BFA '17), Lauren Mendelson (BFA '18), Randi Townsend (BFA '17), and Illinois alumnus Jon Faw ('17 MEDIA). MFA candidates Mauriah Kraker and Leah Wilks will join Maybee in an opening improvisation.
Program B will feature small works created by Dance faculty in conjunction with alumni. Professor Sara Hook will bring back alumnae Betsy Brandt (MFA '13), Elizabeth Johnson (MFA '03), Randi Townsend (BFA '17), and Kendra Portier (MFA '18) to the Studio Theatre stage. Professor Tere O'Connor will set the duet Double Flower Possibility on two alumni, and graduate Momar Ndiaye (MFA '17) will create a physically demanding solo for Professor Abigail Zbikowski.
Studiodance I Extended
Bluestem Hall: March 8–9, 2019
MFA Candidates Mauriah Kraker and Leah Wilks will premiere their MFA thesis works in the stunning, newly renovated Bluestem Hall, located in the Barnhart Prairie Nature Preserve (1413 E. Old Church Rd., Urbana). For more information, visit dance.illinois.edu.
Studiodance II
Studio Theatre: April 18–20, 2019
Always expect delightful surprises in Studiodance II, when Dance at Illinois students present their dance-making investigations curated by a panel of faculty and students. Be sure to get your tickets early, as this is always a highly attended event.