New Colwell Playhouse Sound System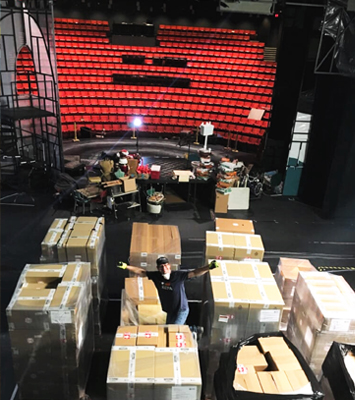 June 2021
The Krannert Center Audio Department is in the final stages of its major accomplishment to completely renovate the Colwell Playhouse sound system with the installation of a new system manufactured by Meyer Sound purchased from TC Furlong. Learn more about the significance and scope of this project from Director of Audio Services Rick Scholwin.
Q: What does this renovation consist of?
A: The complete sound system renovation for Colwell Playhouse entails installation of traditional, arched proscenium-style left, center, and right speaker arrays as a frame for the stage. It includes an immersive system capable of acoustical manipulation for both house and stage, consisting of 99 individual loudspeakers and 27 microphones, to recreate the auditory experience as architectural dimensions change, such as from a chamber-type room to a large cathedral. Our patrons, artists, and students will greatly benefit from this significant improvement to the former Playhouse sound system.
Q: Why is this project important?
A: Deciding to proceed with this project allows for new artistic programming possibilities and is a major step forward for Krannert Center and the University of Illinois Urbana-Champaign in the merging of professional arts technologies and education.
Q: How will the new system enhance the quality of sound in the Colwell Playhouse?
A: The Playhouse system served us very well for about 20 years, but we can now consistently offer cutting-edge sound reinforcement technology to our artists and patrons alike. From an educational perspective, our sound design students will leave us with first-hand, in-depth knowledge of large-scale immersive systems.
Q: What is the scale and scope of the project?
A: The concept for this space was to have in place a world-class sound system to accommodate nearly any artistic endeavor for visiting artist events and for the performing arts at Illinois academic departments of Music, Theatre, and Dance. The ramifications of this project are vast for the entire university and Krannert Center in both its immediate and future impact on event production. Total investment for the Colwell Playhouse system will be over one million dollars.
Q: Who did the installation work?
A: I am very proud to say the installation was a team effort, accomplished by a local electrical contractor,Central Illinois Electric Company; Krannert Center Building Electrician Joe Butsch; Scene Shop technical staff; and of course Krannert Center's Audio Department, all contributing and lending expertise in their own unique way. I would like to highlight the contributions of Alec LaBau (Assistant Audio Director/Video Director), Keith Norton (Theatre Audio and Media Specialist), and Tatsuya "Tito" Ito (Associate Technical Director). Their work on this project was impeccable.
Q: Anything else you'd like to share?
A: My goal when accepting this position in 2015 was to help sonically advance the high bar of world-class presenting that inherently exists within Krannert Center for the Performing Arts.
This vision has been an ongoing process over many years and will continue. It is not lost on us how fortunate we are in these times to have been granted this opportunity by Provost Andreas C. Cangellaris. We are also very grateful to Krannert Center's Director Mike Ross, Dean Kevin Hamilton, Associate Dean of Administration Paul Redman, Krannert Center's Advancement team, and all of the College of Fine and Applied Arts for their continued support in helping us raise the level of sonic art making in the Colwell Playhouse. Due to the pandemic, this installation has taken much longer than anticipated, and the acoustic tuning process of the system will be finalized in June. We feel it will be well worth the wait!