There's a New Chef In Town: Amy Thomas Heads Intermezzo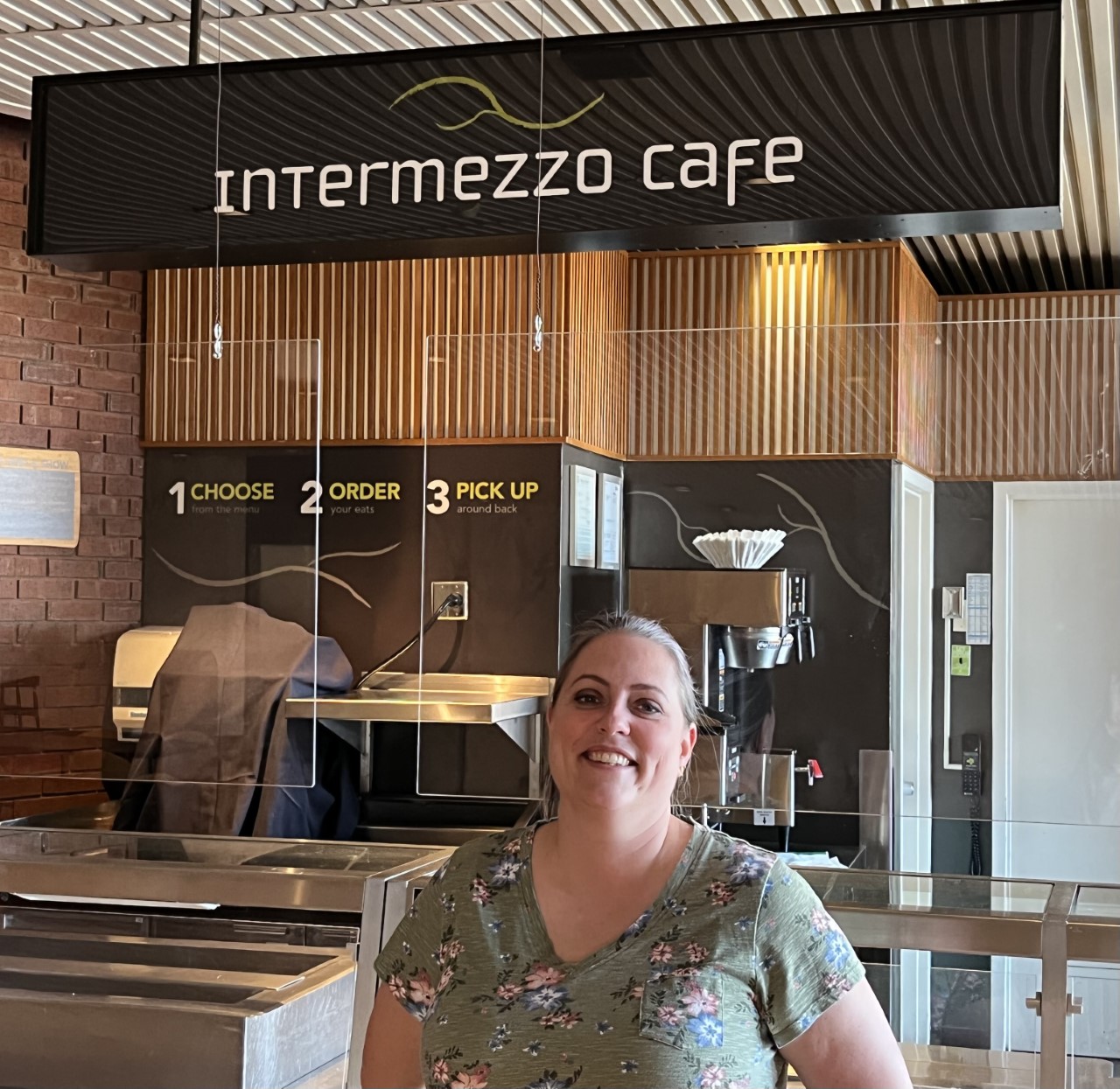 The winter of Krannert Center's culinary discontent is coming to an end.
After being shuttered since the end of the Spring 2022 semester in mid-May, Intermezzo, the popular Krannert Center café and coffee spot, has a new chef at the helm. Amy Thomas began on October 24, and hit the ground running on day one, taking care of her top priority: good coffee.
"Columbia Street Roastery was here yesterday. I got our first order of coffees and syrups in. I've worked with them for years."
A native of the Quad Cities, Thomas began dabbling in food service at age 13, helping at a butcher shop owned by some family friends. The butcher had a trailer they would take to the county fairs throughout the Iowa summer, and Thomas went along to help sell brats and sausages to hungry carnival-goers. "I like to make the joke that I was a 'Carny' at a very young age," Thomas laughed. There was also a stint at Burger King in high school, and the influence of a family sandwich shop in Moline called Belgian Village that made their own bread and everything else in-house. "They had a sandwich called the VandyReuben, a Reuben on raisin bread, with homemade sauerkraut and home-cured corned beef. It was amazing. There were always lines out the door."
After a stint in the army and graduating college with a degree in Industrial Technology with a minor in printing, she found herself in a sales job in "a cube farm." She was good at it, but it was unfulfilling, and Amy missed working with her hands. "I always had food as a fallback, and I was friends with mutual friends of the gal who ran the food service at Hendrick House. I ran into her after work one day, just absolutely miserable, and asked her if she had a job; she said yes." That was eight years ago.
Thomas has worked in catering at Hendrick House, helped run the catering operations for Hendrick House at Parkland College, Betsy's Bistro, and even worked as a freelance cake decorator for a time. She's seen it all in the food industry, literally from soup to nuts, management to front-line.
Her plans for Intermezzo are scaled. There will be a soft rollout of the essentials to get operations underway. She's reviewing menu options for lunches and dinners on show evenings, but that will be a bit down the road. She's hoping to have a team of five or six, including a student worker or two, up and running full steam by January 17, 2023.
What's on tap for the menu?
"Coffee and pastries, maybe breakfast sandwiches in the morning. Daily specials, soups, and salads, and hopefully an entrée or two for afternoons and evenings."
What about Intermezzo's world-famous grilled cheese and tomato soup? Thomas assures it will still be on the menu.
"I was told there would be a popular uprising if that went away."
Although it will have an extremely limited menu at first, look for Intermezzo to start opening slowly to the public in the next couple weeks and slowly ramp up selections as the Fall semester ends. And if you see Amy, be sure to say hello.