Stage 5 Bar Cowboy Cocktail Recipe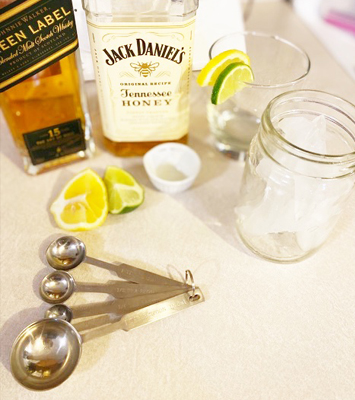 May 2020
Perhaps you're looking for a tasty beverage to celebrate an everyday victory—like putting on real pants or getting through a day of back-to-back Zoom meetings. Krannert Center has just the thing—a simple cocktail that was inspired by the Lyric Theatre @ Illinois production of Crazy for You!
Krannert Center's Stage 5 Bar Cowboy Cocktail Recipe
Original Recipe
2 lemon slices
2 lime slices
1 oz Canadian Club whiskey
1 oz Maker's Mark
Tools
Jigger
Drink shaker
Muddle the lemons and limes in a shaker. Add the liquors and a good amount of ice. Put the lid on the shaker and shake vigorously until the drink is combined well, chilled, and is slightly frothy. Strain into a glass filled with ice. Garnish with a lemon slice and lime slice.
At Home Variation
1 tsp fresh squeezed lemon juice
1 tsp fresh squeezed lime juice
1 oz blended whiskey
1 oz bourbon
Tools
1 oz measuring cup (1/8 cup or 2 tbsp)
Mason jar with a lid
Fill the Mason jar with ice. Add fresh lemon juice, lime juice, whiskey, and bourbon. Screw the lid onto the jar and shake vigorously. Pour everything into a glass filled with ice. Garnish with a lemon slice and a lime slice.
Tips: The Canadian Club whiskey in the original recipe lends a bit of sweetness. If you don't have that, try Jack Daniels Honey or dissolve 1/2 tsp of granulated sugar into a splash of room temperature water, and add that. If you do not have a drink shaker or Mason jar with a screw-on lid, try a leak-proof travel mug. (Test the mug with water first to make sure your drink doesn't go flying all over your kitchen!)
Cheers!