Krannert Center Supports Kronos Quartet's Fifty for the Future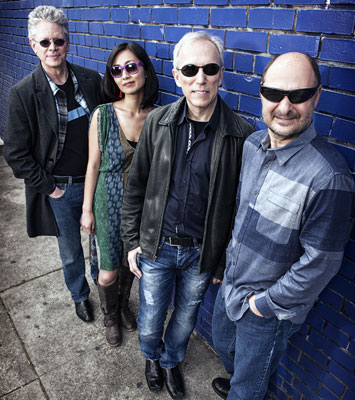 July 2018
Krannert Center is proud to be a commissioning partner of Kronos Performing Arts Association's Fifty for the Future project. This ongoing performance, education, and legacy initiative publishes new string quartet repertoire by an eclectic, international group of 25 female and 25 male composers. The five newest pieces, by Islam Chipsy, Aftab Darvishi, Philip Glass, Onutė Narbutaitė, and Yevgeniy Sharlat, have just been released on the Kronos Quartet website, joining the 20 previously published works and marking the halfway point of the project. Scores, parts, recordings, and supplemental learning materials for all of the works are available free of charge. Kronos' Fifty for the Future is devoted to the most contemporary approaches to the string quartet and designed expressly for the training of students and emerging professionals. Launched in 2015, the initial 20 scores of the initiative have been downloaded over 8,500 times in 76 countries and territories worldwide.
Kronos Quartet will perform at Krannert Center as part of Sonic Illinois on February 27, 2019. In A Thousand Thoughts—A Live Documentary with Kronos Quartet, Kronos Quartet teams with Oscar-nominated filmmakers Sam Green and Joe Bini for a multimedia performance piece that blends live music and narration with archival footage and filmed interviews. The event tells the story of Kronos Quartet while also meditating on music and its creation and meaning. Of central importance to both Kronos Quartet and Krannert Center is the support of the next generation of artists, embodied equally by Fifty for the Future and A Thousand Thoughts.
Sonic Illinois, a month-long celebration of new music, honors innovative creators who challenge convention, forge pathways, and expand the creative process.