Krannert Center Announces 50th-Anniversary Opening Night Party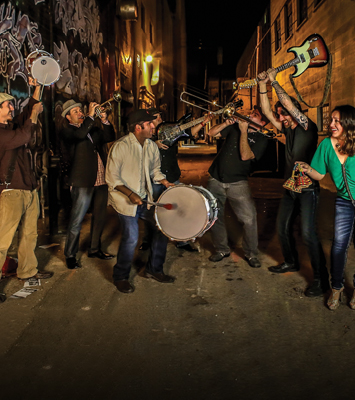 It's time to kick off the season that's been five decades in the making! Krannert Center ushers in the 2018-19 season, the first half of its two-season 50th-anniversary celebration, with an Opening Night Party featuring a vibrant mix of top-notch artists, food and beverage, and a by-the-decades car display surrounding the Center. Come dressed from a decade of your choice, 1960s to the future! Admission is free; donations are encouraged.
South Carolina-based Ranky Tanky—whose name is loosely translated as "get funky"—performs timeless music of Gullah culture born in the southeastern Sea Island region of the United States. Combining influences from West Africa and American jazz into arrangements all its own, Ranky Tanky "is a joyous listen" (Elmore Magazine).
Baracutanga, with members representing four countries (Bolivia, Ecuador, Peru, US), prides itself on arranging traditional South American rhythms in new ways. This blending of ancestral traditions with a modern sensibility results in an exciting Latin flavor all its own that leaves dancers always wanting more.
Steel guitarist AJ Ghent returns by popular demand after setting the stage ablaze at ELLNORA | The Guitar Festival 2015. Ghent plays his steel stand-up style, constructing a musical sound that can be heard howling from the church to the streets to the clubs. Fusing blues, funk, rock, and pop, Ghent creates for his audiences an unforgettable, energized, and soulful musical paradise.
Musical breezes will blow through the Amphitheatre as local favorites New Orleans Jazz Machine and clarinet/sax player Carl Johnson serve up Dixieland and swing classics, and we've got even a little more fun up our sleeves—throughout the night, Chicago's own Mucca Pazza will pop up in performance, combining marching band traditions and street theatre with rock band sensibilities to create eccentric, frenetic fun.
New to the Opening Night Party this year is a ticketless system for food and beverage purchases—all purchases can be made via cash or credit/debit card at each individual vendor. Joining the Center on the Terrace will be Siam Terrace, Caribbean Grill, Piato, Rosati's Pizza, and Rick's Bakery, and on Oregon Street will be Betsy's Bistro food truck, Oh, Honey Pie food truck, and Chester's BBQ food truck.
Free parking is available in the garages underneath Krannert Center. Surrounding street parking is free after 6pm. Parking on Goodwin Avenue in front of the Center will not be available.
The Krannert Center Ticket Office will be open throughout the evening's festivities for guests to purchase tickets to events throughout the 2018-19 season. Patrons can also visit Promenade Showcase + Gift Shop for quick snacks, Krannert Center and artist merchandise, cards and gifts, and to view behind-the-scenes displays.
This event is sponsored by Patron Co-sponsors Mary and George Perlstein and Corporate and Community Bronze Sponsors BodyWork Associates, Kessler Optical, and the University of Illinois Community Credit Union.
The party continues on Saturday, September 8 at 9am with Family Day, celebrating Krannert Center's long-standing commitment to programming for all ages. Young patrons are invited to try crafting activities, enjoy a didgeridoo demonstration by Sam Gingher and a tap dancing lesson by Charlie Maybee, and take in performances by BowDacious String Band, Chinese Heritage Association, Urbana High School Vocal Chords Required, and Banks Bridgewater Lewis Fine Arts Academy Drumline. Intermezzo cafe and Promenade Showcase + Gift Shop will also be open starting at 9am. The Ticket Office will be open starting at 10am.
Admission to both the Opening Night Party and to Family Day is free; donations are encouraged. For more information, visit KrannertCenter.com or call 217.333.6280.