Krannert Center Announces the 2017-18 Season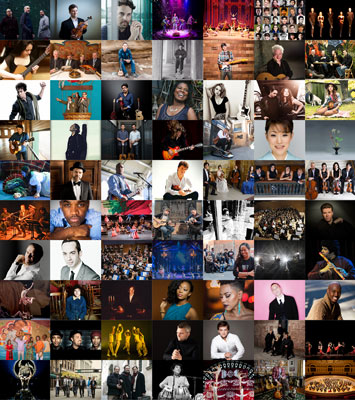 May 2017
The new season at Krannert Center will burst forth with ELLNORA | The Guitar Festival September 14-16 and the Opening Night Party on Thursday, September 14 featuring James Jones Trio, Samantha Fish, and Soulive as well as food vendors, community partners, activities throughout the lobby and terraces, and a separately ticketed event with ELLNORA Ambassador Artist Kevin Breit. As the opening wave of activity continues, exceptional artistry from across the spectrum awaits audiences. The Pygmalion Festival, The Bad Plus with Bill Frisell (an ELLNORA Reverb concert), Jupiter String Quartet's 15th Anniversary Celebration, Tango Buenos Aires, Takács Quartet, joint programming from Japan House and the Illinois Prairie Chapter of the Ikenobo Ikebana Society, the National Acrobats and Martial Artists of Tianjin, and the Festival of South African Dance are just a few of the exceptional and diverse offerings that will grace the Center's stages in the first months of the season.
In the classical and chamber music realms, the Center will welcome Chicago Symphony Orchestra, Mariinsky Orchestra of St. Petersburg, Minnesota Orchestra, violinist Joshua Bell, Staatskapelle Weimar, Takács Quartet, Vienna Piano Trio, the Van Cliburn International Piano Competition Gold Medalist, Lawrence Brownlee, and Jupiter String Quartet's special guest pianists Michael Brown and Timothy Ehlen. During ELLNORA | The Guitar Festival, September 14-16, classical music lovers are encouraged to explore the artistry of Juilliard School guitarist Alberta Khoury and a performance of a Krannert Center-commissioned Pat Metheny piece entitled Road to the Sun by Los Angeles Guitar Quartet. The Center's long-standing commitment to emerging young artistry will once again be center stage with the Sunday Salon Series which will feature Young Concert Artists Winner Nathan Lee, piano; Concert Artists Guild Winner Jiji, guitar (an ELLNORA Reverb concert); M-Prize Winner Calidore String Quartet; and the Krannert Center Debut Artist.
The 100th anniversary of the birth of Thelonious Monk will be the impetus for Jason Moran and the Big Bandwagon's performance of In My Mind: Monk at Town Hall, 1959 on Tuesday, November 14 and will be complimented by lectures and other remembrances. Just days later on Thursday, November 16, dance artist Jonah Bokaer and visual artist Daniel Arsham will present Rules of the Game, a Krannert Center co-commissioned new work with music by Grammy-winning artist Pharrell Williams. Mark Morris Dance Group also returns—this time with Silk Road Ensemble—to present the stunning new work Layla and Majnun based on the ancient Persian love poem of the same name and the 1908 opera by Azerbaijani composer Uzeyir Hajibeyli. Also in the spring semester, illusionist and mentalist Scott Silven arrives for four shows in the Studio Theatre and Dublin Irish dance, Paige Hernandez, Cahoots NI, and a free concert by Sonia De Los Santos (an ELLNORA Reverb concert) enliven family audiences.
Dynamic performances by Dance at Illinois, Illinois Theatre, and Lyric Theatre @ Illinois, as well as from Sinfonia da Camera and the Champaign-Urbana Symphony Orchestra, will also be a central feature throughout the 2017-18 season.
The entire season can be previewed now. On June 26, season books will be mailed to Krannert Center mailing list members and will be available at the Center and by request. Tickets go on sale Saturday, July 8 at 10am.