Krannert Center's Promenade Grand Reopening February 1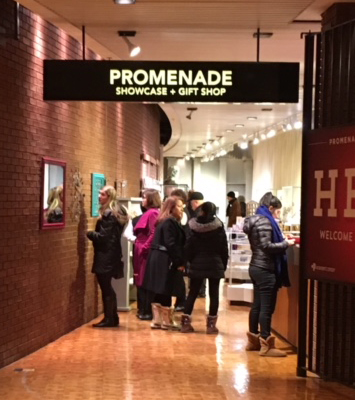 January 2018
The Promenade Showcase and Gift Shop at Krannert Center for the Performing Arts will hold a grand reopening on February 1, 2018. The new showcase format within the shop will provide fresh opportunities to share the work of faculty and student artisans as well as the Center's own rich history. Patrons can expect to discover rotating displays featuring props, costumes, and set pieces that bring the creative process to the forefront while sharing the research and educational mission of the Center and its collaborative partners at Illinois Theatre, Dance at Illinois, School of Music, and Lyric Theatre @ Illinois.
Promenade will also continue to provide customer-favorite items such as Motawi tiles, unique jewelry, and greeting cards; convenience items; and Krannert Center merchandise. The shop will also sell recordings and products from Marquee visiting artists, School of Music ensembles such as Jupiter String Quartet, and artwork by University of Illinois students including jewelry, ceramics, paintings, and prints.
Promenade Showcase and Gift Shop is open 2pm to 6pm daily, or 2pm until the end of intermission on performance nights. For more information, visit Promenade on KrannertCenter.com.