Intermezzo Cafe Tuna Salad Recipe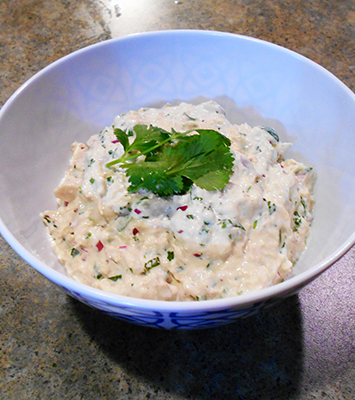 July 2020
Intermezzo cafe's crunchy, savory tuna salad is a long-standing customer favorite here at Krannert Center. If you've ever wondered what those secret ingredients are that make it so delicious, here's your insider info!
2 five-oz. cans of tuna, drained of excess liquid
1/2 red onion, diced
1/2 jalapeño pepper, deseeded and diced
2 tbsp chopped cilantro
1 tbsp lime juice or 1/2 lime, squeezed
1/2 cup mayonnaise or just add it by the spoonful and mix until desired consistency
Pro-tips:
1. Tuna "in water" is much easier to drain.
2. PLEASE be aware of your hands while deseeding your jalapeño, and wash hands after. Touching your eyes will result in pure regret!