ELLNORA | The Guitar Festival 2017 Artist Lineup Unveiled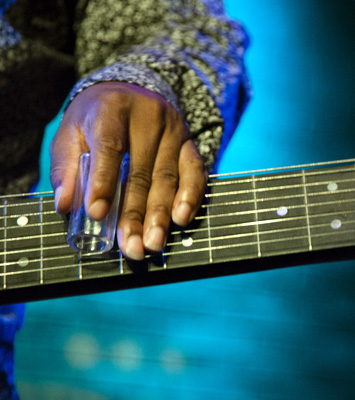 April 27, 2017
On September 14, 15, and 16, 2017, a stunning display of the world's most remarkable and significant guitarists will gather for the seventh installment of ELLNORA | The Guitar Festival, a biennial event that features "a prodigious array of the world's most distinctive and influential guitarists" (Premier Guitar) from around the globe, including for 2017, artists rooted in Gran Canaria, Spain, Germany, Canada, Pakistan, Australia, and from throughout the United States.
This year's incarnation of ELLNORA incorporates 14 ticketed events including performances by Jeff Tweedy, Janis Ian, Ronnie Baker Brooks Band, Vicente Amigo, Rez Abbasi Quartet, Ryley Walker, Kevin Breit, Julian Lage and Chris Eldridge, Lulo Reinhardt and Daniel Stelter, Jontavious Willis, and family favorite Recess Monkey, along with at least seven free shows featuring artists Germán López, Frank Solivan & Dirty Kitchen, Sierra Hull, Makana, and local musicians Jack Brighton and Andy Baylor.
For 2017, ELLNORA will feature guitarist Kevin Breit as an Ambassador Artist. Breit has dazzled Krannert Center crowds in previous ELLNORA festivals with his bands Sisters Euclid and FolkAlarm. He's performed with Cassandra Wilson, Norah Jones, Rosanne Cash, k.d. lang, Natalie McMaster, and many others—picking up JUNO Awards, a National Jazz Award, a Gemini Award, and playing on albums that have collected ten Grammy Awards. Lately, this "guitarist's guitarist" has been delighting audiences with his mandolin chops, complemented by his masterful skills as a singer and band leader. Breit will perform in a special, late-evening, limited-ticket event called Spontaneous Combustion on ELLNORA's opening night, Thursday, September 14 with several special guests to be announced. He will also perform with The Upper York Mandolin Quartet in a free show on Saturday, September 16 at 6pm and will help close out the festival on Saturday in the ELLNORA Last Call! concert.
The $5 Opening Night Party on Thursday, September 14 will include sets of traditional blues from Illinois native James Jones, blistering blues-rock from Blues Music Award-winner Samantha Fish, and a surging funk sound from Soulive. The event will also be recognized as an official part of the University of Illinois' sesquicentennial celebration and throughout the festival Illinois-based artists will be featured.
ELLNORA, which bears the name of its venue's visionary founder, Ellnora Krannert, provides a vital showcase for some of today's most prominent female artists. In addition to folk guitar legend Janis Ian, smoldering blueswoman Samantha Fish, and the captivating young mandolinist Sierra Hull, female artists for 2017 also include Cary Ann Hearst of Shovels & Rope, guitarist-singer-songwriter (and Bonnie Raitt collaborator) Ruthie Foster, and the prodigious talent of Australian-born Alberta Khoury, who is a Juilliard School student under the tutelage of 2015 ELLNORA Artist-in-Residence Sharon Isbin.
Originally known as the Wall to Wall Guitar Festival before being rechristened ELLNORA in 2009, the event is organized by Krannert Center for the Performing Arts' director, Mike Ross, and his staff in collaboration with curator and artistic advisor David Spelman, who is also founder/artistic director of the world-renowned New York Guitar Festival. In the years since its debut, ELLNORA has served as a model for other events in the United States and around the world.
View A Short Film: ELLNORA | The Guitar Festival.
Read the entire national press release.
View the 2017 ELLNORA performance schedule.