Distinguished Staff Award for Krannert Center Employee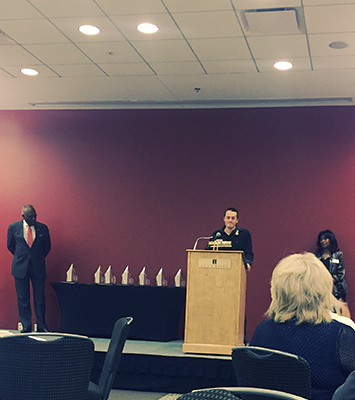 June 2017
Chancellor Robert Jones presided over his first Distinguished Staff Award recognition this spring, and Krannert Center is exceedingly proud that a member of the family was included in the honorees. Emmett Catlin, a member of the Center's mission-critical building operations team, has been named a 2017 Chancellor's Distinguished Staff Award winner!
According to Cindi Howard, Associate Director for Finance and Operations, and John Williams, Facility Manager, Emmett's work ethic, professional attitude, and friendly personality are amazing assets to Krannert Center. Both noted that Emmett is very knowledgeable about the wide variety of tasks he is responsible for and knows the facility inside and out. In particular, Catlin's colleagues appreciate his problem solving skills, willingness to lend a helping hand to fellow employees, and graciousness in helping the many students and visitors who need assistance navigating the Center's complex layout.
The entire Krannert Center ecosystem thrives on the genuine passion and dedication of employees like Emmett, and collectively, there is deep appreciation for the positive impact he has created!