Dimension 2021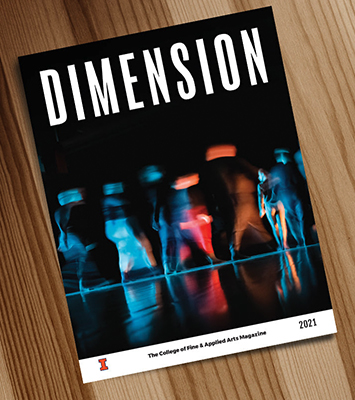 November 2021
Dimension, the 2021 issue of the annual College of Fine and Applied Arts magazine, is now available to read online. Learn more about the vibrant, creative work, news, and accomplishments of FAA's alumni, faculty, staff, and students.
The print magazine was designed and produced utilizing sustainable methods such as reducing the amount of paper used by designing the pages to have the least amount of trim waste possible and limiting the overall number of pages. New this year, Dimension 2021 includes the launch of a microsite to further enhance the reader's experience by providing additional images, expanded articles, and links to the unit websites for more details and information.
Explore the microsite at dimension.faa.illinois.edu, and be sure to read the below Krannert Center stories:
Community Engagement and Peace Building Through Krannert Center
Sam Smith, Krannert Center's director of civic engagement and social practice (MSW '94), works to capture the increasing social impact of the Center's engagement practice in local, national, and international contexts and along the thematic lines that reflect the Center's commitment to social justice.

Krannert Center Gets Major Accessibility Upgrades
Krannert Center holds a long-standing commitment to improving accessibility around the arts, seeking ways in which the facility itself can be more navigable for everyone in our community.