Dance for People with Parkinson's Online Classes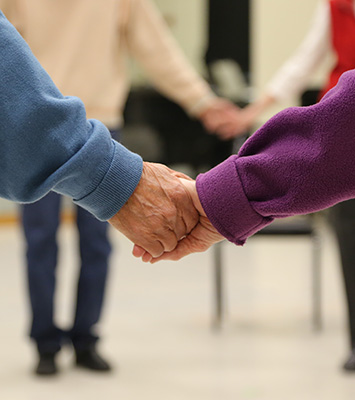 March 2021
For anyone living with Parkinson's Disease, Krannert Center is offering its monthly free class of gentle dance movements set to uplifting music on Friday, April 9, and Friday, May 7, both at 9:30am.
Dance for People with Parkinson's is an online video class that individuals can access via Zoom. Professionally trained dance instructors will guide participants in the 70-minute session specially designed to assist with preserving and improving balance, flexibility, and strength.
"This class is a special demonstration of what happens when you are able to explore the creative empowerment of dance and the positive impact it can have on the mind, body, and soul, as well as the connections and sense of family that it can create within communities," said Whitney Havice, Krannert Center's Ticket Services Director and the staff liaison for the program.
The class at Krannert Center was started in 2009 and is originally inspired by Dance for PD, developed about 20 years ago by the Mark Morris Dance Center in Brooklyn, N.Y. Morris is an ongoing creative partner with Krannert Center, and Krannert Center is considered the company's Midwest home.