Dance Heginbotham Incubates New Work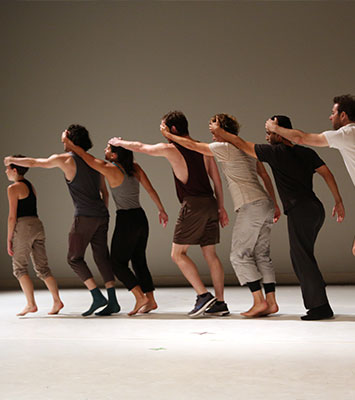 Choreographer John Heginbotham may be best known to Krannert Center audiences from his days as a company member with Mark Morris Dance Group. He returned to the Center in August 2016 with his own New York-based company, Dance Heginbotham, and visual artist Maira Kalman as part of Krannert Center's Intensive Dance Laboratory (IDL) to work on the next phases of his newest piece. The IDL, which is funded by The Andrew W. Mellon Foundation and is now in its seventh year, provides both emerging and established artists space and creative resources to move a new work from conception to production over a three-year period. Grant funds also allowed students from Level 21—the design, technology, and management program co-led by Krannert Center and Illinois Theatre—to collaborate with Dance Heginbotham and the Krannert Center staff building sets and working on lighting and sound design.
The work Heginbotham is creating with Kalman—an illustrator, writer, artist, and set designer—is inspired by her book The Principles of Uncertainty, the title of which is also the working title of the production. The book resembles a graphic novel in form, organized by absurd weather reports that are read by an actor in Heginbotham's staging. Kalman illustrated the book with paintings, photographs, and pictures of embroidery she has done. The story will be told in vignettes with a mix of classical and contemporary music, and it is "about time and how we observe and deal with and experience time, knowing we have limited time," Heginbotham said. "There is room for humor, heartbreak, and great absurdity."
The goal of the Krannert Center residency was experimentation and creativity, not a finished production by the end, Heginbotham said, continuing, "I have been creating content for The Principles of Uncertainty for nearly a year, but as there are many discrete elements involved in this work, most of the tech aspects have lived in my imagination. Because the tech is essential to telling the story of this piece, it was crucial to spend time in a theatre with the objects and projection elements I've dreamt of including . . . . I was also able to develop the piece in a way that was fruitful without having the pressure of a performance immediately to follow the residency. This freedom to explore without the pressure of finishing with a product to show was surprisingly liberating." Kalman, Heginbotham, and his company will continue to work on the piece in other locations with an anticipated premiere in summer 2017 at a location to be determined.
Get more on this story by visiting the Illinois News Bureau.