Chicago Symphony Engages University Music Students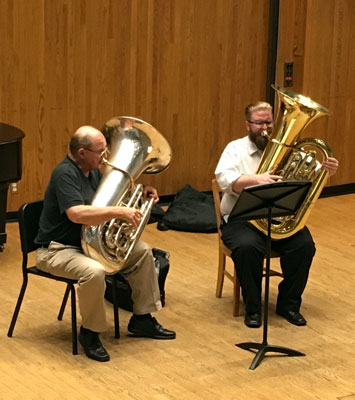 On Saturday, September 24, Chicago Symphony Orchestra returned to Krannert Center for its 34th magnificent performance here with an exceptional program of selections by Mussorgsky, R. Strauss, and Bruckner. Before taking to the Foellinger Great Hall stage, several musicians from the orchestra engaged University of Illinois School of Music students in unique learning opportunities during the afternoon.
Tuba player Gene Pokorny, violinist Yuan-Qing Yu, oboist Alex Klein, bassoonist Keith Buncke, and horn player David Griffin—each an experienced player with the CSO—led two-hour masterclasses at Krannert Center, the Music Building, and Smith Memorial Hall with university students in the low brass, string, oboe, bassoon, and horn programs. Students were able to refine their technique and interpretation of musical selections and to gain an appreciation of teaching methodologies through these practical and inspiring exchanges.
Learn more about the Center's commitment to public engagement work.