Bizhiki Culture & Dance Offers Artistry and Engagement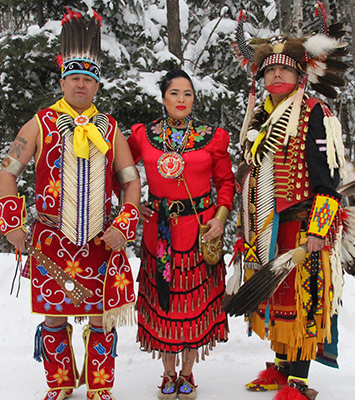 In September 2019, Krannert Center for the Performing Arts and University of Illinois Native American House welcome the return of Bizhiki Culture & Dance Company for a week of engagement and performance activities. This visit builds upon previous campus work and relationships with both Native American House and Spurlock Museum of World Cultures.
The Bizhiki Culture & Dance Company was founded in 2016 on the pillars of public engagement and education with the goal of furthering people's understanding of Indigenous cultures through interactive workshops, presentations, and exhibitions. The dedicated professionals of Bizhiki, many of whom are members of Lake Superior Ojibwe nations, engage audiences of all ages through intricate stories, traditional and contemporary dance and song, and demonstrations of traditional ecological knowledge, guiding participants to a better understanding of cultural resiliency and revitalization. The company has performed and presented powwow dance exhibitions throughout the United States and Canada.
During their time on campus, Bizhiki will offer a public, ticketed powwow dance exhibition on Friday, September 20 at 7:30pm in the Tryon Festival Theatre as well as two school performances as part of Krannert Center's Youth Series. In addition to the performances, members of Bizhiki will engage campus and community audiences around the topics of health, treaty rights, Indigenous peoples' identity and representation, cultural history, and education. They will meet with students and faculty from American Indian Studies and the Native American and Indigenous Student Organization, visit the FAA 110 courses that explore culture on campus, lead classes for both the School of Music and Dance at Illinois, participate in the Improviser's Exchange class, discuss cultural preservation and technology with the eDream Institute, and share perspectives on teaching about Indigenous cultures in public institutions.
Visit the performance page for details.