Announcing the 2023-24 Season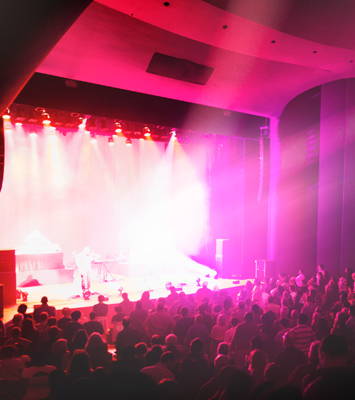 This is the moment you've been waiting for!
Krannert Center for the Performing Arts at the University of Illinois at Urbana-Champaign is happy to announce the 2023-24 performance season, featuring emerging artists, returning favorites, and the tenth edition of ELLNORA | The Guitar Festival. Events from September to May showcase national and international artists as well as university student performances in music, theatre, lyric theatre, dance, and more.
The complete season listing is at the bottom of this article.
"Announcing a new season at Krannert Center has always been a moment of great pleasure for me during my time here," Krannert Center Director Mike Ross said, "but this time that sense of pleasure is accompanied by an even greater sense of gratitude and appreciation to everyone who has helped make it possible for us to offer such a beautifully diverse array of life-affirming experiences to our greater Champaign-Urbana community and beyond. The pandemic taught us all many things, none of which in my mind is more important than realizing how easy it is to take so much for granted — including the gift and privilege of being able to simply gather together. And it is my hope that this new season at Krannert Center will give people from all walks of life and of all ages reason to come together again and again, and to be reminded of what a very special gift it is to be able to gather in celebration of this extraordinary phenomenon we call art."
The season—and ELLNORA—will kick off with the 2023 Opening Night Party on September 8, with ELLNORA continuing through September 9. This biennial festival will feature performers who showcase the range and diversity the guitar family has to offer, including Rodrigo y Gabriela, Ani DiFranco, Andy Summers, The Surfajettes, Ron Carter, Emmylou Harris, and many others. The festival will also feature food and drink, a musical instrument "petting zoo," and other experiences. Several free events will be offered, including a free Saturday morning performance by Sharon Isbin and Pacifica Quartet.
Fall visiting artist performances include—among many others—Morris Day and the Time (Sep 16), PYGMALION (Sep 21), St. Louis Symphony Orchestra (Oct 1), Mary Chapin Carpenter and Shawn Colvin (Oct 14), and Kronos Quartet (Nov 8). The Champaign-Urbana Ballet returns with The Nutcracker (Nov 30-Dec 3).
A selection of spring visiting artists includes New Zealand's Indian Ink Theatre Company presenting Mrs. Krishnan's Party (Jan 18-20). Jazz takes center stage with saxophonist Branford Marsalis and his quartet (Jan 27). Krannert Center regulars the Mark Morris Dance Group (Feb 9 & 10), and the Chicago Symphony Orchestra (Feb 22) will return. Honolulu Theatre for Youth presents The Pa'akai We Bring (Mar 3). Celebrated musical pairing cellist Yo-Yo Ma and pianist Kathryn Stott perform on April 6.
Visit the Krannert Center calendar for detailed descriptions of each performance. All performance times and dates at Krannert Center are subject to change.
Series ticket packages will be available for Great Hall Classical, Sunday Salon—Emerging Artistry, and Jupiter String Quartet series, as well as concert series featuring Sinfonia da Camera and the Chamaign-Urbana Symphony Orchestra. Tickets for fall 2023 events will go on sale to the public at KrannertCenter.com August 9; spring 2024 events will go on sale later this year. For more information visit our How to Buy Tickets page.
Can't wait for tickets? Krannert Center's Marquee Circle and Loop members enjoy early access to tickets as one of the perks of being a donor; contact advancement [at] krannertcenter.com (Krannert Center's Advancement team) for more information.
Patrons who have questions or who would like assistance purchasing tickets online are welcome to call 217.333.6280 (800.KCPA.TIX)
Email info [at] krannertcenter.com for questions about the season, ticketing information, or accessibility concerns. The staff at Krannert Center hopes you enjoy the upcoming season.
2023-24 Krannert Center Season
(All times and performances subject to change)
ELLNORA | The Guitar Festival
Sep 8 OPENING NIGHT PARTY
National Anthem with Malina Moye
Roosevelt Collier
Stephane Wrembel Band
The Surfrajettes
Rodrigo y Gabriela
Sep 9 - ELLNORA Day 2
Sharon Isbin and Pacifica Quartet
Yamandu Costa
Ron Carter Trio featuring Donald Vega and Russell Malone
Ani DiFranco
Tosin Abasi and Jake Eddy
Yasmin Williams and William Tyler
Andy Summers: Broken String and Cracked Lens
Emmylou Harris
North Mississippi Allstars
2023-24 MARQUEE EVENTS
Sep 16 Morris Day and the Time
Sep 21 PYGMALION
Sep 23 Okaidja Afroso: Jaku Mumor—Ancestral Spirit
Sep 24 Merz Trio: Of Light and Darkness
Oct 1 St. Louis Symphony Orchestra
Oct 3 Jupiter String Quartet
Oct 10 Gene Machine
Oct 14 Mary Chapin Carpenter and Shawn Colvin
Oct 26 Los Angeles Master Chorale: Music to Accompany a Departure
Nov 5 Duke Ellington's The River Suite and Sacred Suites
Nov 8 Kronos Quartet: KRONOS Five Decades
Nov 10 Jupiter String Quartet with guest
Nov 15-16 Pablo Ziegler Tango Trio
Nov 30-Dec 3 Champaign Urbana Ballet: The Nutcracker
2024
Jan 18-20 Indian Ink Theatre Company: Mrs. Krishnan's Party
Jan 27 An Evening with Branford Marsalis
Feb 6 Jupiter String Quartet with Guest
Feb 9-10 Mark Morris Dance Group and Music Ensemble
Feb 17 Manual Cinema: Leonardo! A Wonderful Show about a Terrible Monster
Feb 17 JC Mitchell stars in Cassette Roulette
Feb 22 Chicago Symphony Orchestra
Feb 25 Chelsea Guo, soprano and piano
Mar 2 Sofia Philharmonic Orchestra
Mar 7 Bruce Hornsby and yMusic
Mar 23 Honolulu Theatre for Youth: The Pa'akai We Bring
Apr 6 Yo-Yo Ma, cello and Kathryn Stott, piano
Apr 7 Krannert Center Debut Artist
Apr 27 Acrobuffos: Air Play
DANCE AT ILLINOIS
Oct 12-14 October Dance
Feb 1-3 February Dance
Feb 29-Mar 2 Studiodance
Apr 5-6 Studiodance Extended
ILLINOIS THEATRE
Sep 15-16 2nd annual Daniel J. Sullivan Playwright in Residence with
award-winning playwright Matthew-Lee Erlbach, title TBA
Oct 26-28 RENT by Jonathan Larson (Krannert Center at the
Virginia)
Nov 3-11 The Realness: a break beat play by Idris Goodwin
Feb 9-17 Witch by Jen Silverman
Apr 12-20 The Resistible Rise of Arturo Ui by Bertolt Brecht and Bruce Norris
TBD I Wish - Escape Room
Feb 29-Mar 3 Airness by Chelsea Marcantel
LYRIC THEATRE @ ILLINOIS
Sep 21-23 Lyric Under the Stars (at Allerton Park & Retreat Center)
Oct 28 Die Fledermaus (with Sinfonia da Camera)
Nov 7-10 The Wild Party
Feb 13 Carnaval!
Mar 7-8 Fugitive Songs (at Allerton Park & Retreat Center)
Apr 2-6 Black Square
SINFONIA DA CAMERA
Sep 16 Vive la France!
Oct 28 Die Fledermaus (with Lyric Theatre @ Illinois)
Nov 28 20th-Century Chamber Gems
Feb 17 Lucia Lin, Violin
Mar 23 From Ukraine to the Great Gate of Kiev
CHAMPAIGN-URBANA SYMPHONY ORCHESTRA
Oct 7 Orchestral Splendor
Dec 6 A Season of Joy featuring the University of Illinois Oratorio Society
Feb 10 Celebration: Happy Birthday Bruckner!
Apr 20 Fanfares Finale—Saluting Paul Vermel at 100