50TH-ANNIVERSARY 2018-19 SEASON ANNOUNCEMENT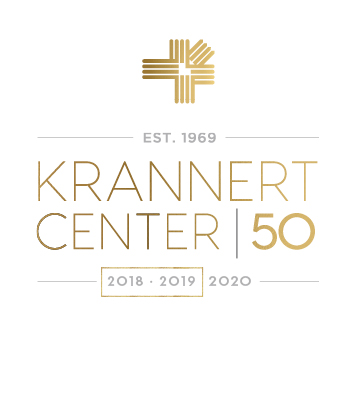 Krannert Center first opened its doors in 1969—the manifestation of a dream that began with two remarkable individuals, Herman and Ellnora Krannert. Their belief in the intrinsic value of the arts, their bold vision for the future, and their passionate loyalty to the University of Illinois helped bring into being what is widely considered the nation's leading university-based performing arts center. For five decades, Krannert Center has served as a unique and vibrant home for discovery, hope, joy, and communion through the performing arts. This "miracle on the prairie" now begins a two-season 50th-anniversary celebration. With friends, colleagues, artists, and patrons past and present, Krannert Center and the College of Fine and Applied Arts academic units of Music, Theatre, and Dance will revel in the many extraordinary moments that have led to this milestone, and invite everyone to audaciously imagine—together—a future of even greater impact. Patrons can expect boundary-pushing commissioning projects and new works, beloved familiar faces alongside new rising stars, invigorating performances from university faculty and students, and time for reflection, inspiration, and merriment—including a special April 2019 weekend that will mark the 50-year anniversary of Krannert Center's opening.
The celebration will begin with the Friday, September 7, Opening Night Party—a high-energy gathering five decades in the making that will feature a musical lineup of Ranky Tanky, Baracutanga, AJ Ghent, Mucca Pazza, and CU's own New Orleans Jazz Machine. Food and beverage sales, a vintage car display on Goodwin Avenue, and an invitation to dress from a decade of choice—1960s to the future—will round out this annual favorite, made even better by a free admission price on this anniversary season. The fun continues on Saturday, September 8, with a family-friendly event celebrating Krannert Center's long-standing commitment to programming for all ages with the opportunity for families to enjoy a variety of Central Illinois' most talented artists and a mix of interactive activities that encourage hands-on arts exploration.
Throughout its 50-year history, Krannert Center has always demonstrated international leadership in the presentation of classical music, and for the 2018-19 season, the Great Hall Series will welcome Los Angeles Master Chorale performing the exquisite Lagrime di San Pietro (Tears of St. Peter), living legend Itzhak Perlman, mezzo-soprano Susan Graham, San Francisco Symphony helmed by Michael Tilson Thomas, and Chicago Symphony Orchestra—which will perform for the 36th time at the Center. In the chamber and young artist realms, patrons can look forward to performances by the UI School of Music's resident quartet Jupiter String Quartet with special guests Jasper String Quartet, Michael Cameron, and Chungliang Al Huang; Canadian Brass, Andersson Dance and Scottish Ensemble, Eroica Trio, accordionist Hanzhi Wang, and many more. The Center will again join forces with the UI School of Music for Sonic Illinois, a celebration of the vital contemporary music scene and its strong history on the University of Illinois at Urbana-Champaign campus. That month-long event will feature, among others, Eighth Blackbird and Third Coast Percussion performing Steve Reich's Music for 18 Musicians and A Thousand Thoughts—A Live Documentary with Kronos Quartet.
The Center's Big Mix Series will burst forth with an opening wave of activity led by the Opening Night Party and pulsing forward with performances by The Builders Association (presenting the Krannert Center-supported STRANGE WINDOW: The Turn of the Screw), The Hot Sardines, Nathan and Julie Gunn and Friends, Ann Hampton Callaway and Susan Werner, two cirque troupes—Australia's Circa and Canada's Les 7 doigts de la main, Dorrance Dance, Arturo O'Farrill and the Afro Latin Jazz Ensemble, Mark Morris Dance Group (performing the Krannert Center-supported Pepperland), Kodo, Ballet Folklórico de México, and so many more!
While the Center encourage families to enjoy many kinds of events together, the events in the Family Fun Series are especially appropriate for the young and young-at-heart. For the 2018-19 season, those will include performances by Manual Cinema, Russian National Ballet Theatre, Tall Stories, and Compagnia TPO among many others. The Ticket Office is pleased to answer any questions about family-friendly services and programs: 217.333.6280 or kran-tix [at] illinois.edu.
Krannert Center invites everyone in the Champaign-Urbana community to save the dates April 12-14, 2019, for a special anniversary weekend. Come Home to Krannert Center will be a time for friends old and new, near and far, to come together in reflection and revelry, celebrating all that has led to this moment in Krannert Center's history. Stay tuned to KrannertCenter.com for details surrounding this festive anniversary occasion, and help the Center to make it a dream come true!
Throughout the two-season celebration, Krannert Center will be collecting stories from the past five decades. People are encouraged to share memories and tell a story about themselves and Krannert Center at KrannertCenter.com/StoryCollection.
The entire season, including programming from Dance at Illinois, Illinois Theatre, Lyric Theatre @ Illinois, Champaign-Urbana Symphony Orchestra, and Sinfonia da Camera, can be previewed online now. In late June, season books will be mailed to Krannert Center mailing list members and will be available at the Center and online. Tickets for the 2018-19 season will go on sale Saturday, July 14, at 10am on KrannertCenter.com, by calling 217.333.6280 (800.KCPATIX), or in-person at Krannert Center for the Performing Arts, 500 South Goodwin Ave., Urbana, Illinois.
View the entire Krannert Center 2018-19 season now.