2022-23 Krannert Center Season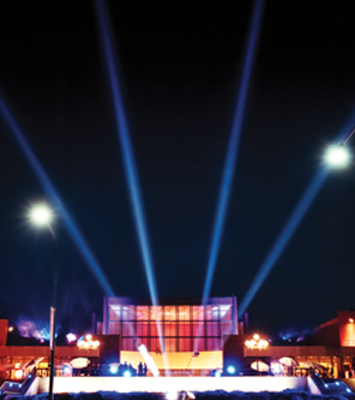 Krannert Center staff are happy to announce the 2022-23 performance season, featuring emerging artists, returning favorites, and performances previously canceled due to the COVID-19 pandemic. Events from September to May showcase national and international artists as well as university student performances in music, theatre, lyric theatre, and dance.
The year will kick off with the Opening Night Party on Friday, September 9, featuring live, free performances by Gracie and Rachel, Mariachi Herencia de México, Soul Rebels, and Cotton Candy Theremin in an environment the entire family will enjoy. The celebration continues Saturday, September 10, with ticketed events by Jerry Douglas and The Second City and free appearances by the Chad Lawson Trio.
Tickets for September and October events will go on sale to the public August 10 (online only). Beginning that date, patrons may purchase tickets for Marquee visiting artist performances including PYGMALION: Mwenso and the Shakes, Circa, Chicago Symphony Orchestra, and more. Ticket sales also begin on August 10 for Illinois Theatre's A Darkling at Nightfall, Lyric Theatre @ Illinois' A Little Night Music, and Dance at Illinois' October Dance 2022. Performance dates for the season are available now; descriptions and details will be shared as they are available.
Because of continuing pandemic effects—longer planning timelines for artists, fluctuations in community health conditions, and staff shortages—tickets will be sold for two months of events at a time, online only. All ticket on-sale dates are online at KrannertCenter.com/events/how-buy-tickets. Performances from November on include the Jazz at Lincoln Center Orchestra with Wynton Marsalis, Dublin Irish Dance, the Lviv National Philharmonic Orchestra of Ukraine, Urinetown: The Musical (Illinois Theatre), Carnaval! (Lyric Theatre @Illinois), Studiodance 2023 (Dance at Illinois), and a full spectrum of additional events.
Patrons who need assistance purchasing tickets online are welcome to email kran-tix [at] illinois.edu or call 217.333.6280 (800.KCPA.TIX) 10am-6pm Tuesday-Friday. The Ticket Office counter remains closed.
Since 1969, Krannert Center for the Performing Arts has offered a vibrant selection of music, theatre, and dance programming. Fulfilling roles as both a professional venue for internationally touring artists and a hub of education in and through the performing arts, Krannert Center works at the intersection of classroom, laboratory, and public square. Audience members from all walks of life are encouraged to experience the joy and wonder that live performances at Krannert Center can offer.
2022-23 Season as of July 18, 2022
All performance information is subject to change.
Ticket On-Sale Dates
COVID-19 safety protocols such as the use of face coverings will be determined in collaboration with university leadership closer to the date of events.
MARQUEE
Opening Night Party with Gracie and Rachel, Mariachi Herencia de México, The Soul Rebels, and Cotton Candy Theremin
Fr Sep 9
Lobby (FREE)
Chad Lawson Trio
Sa Sep 10
Lobby (FREE)
The Second City
Sa Sep 10
Tryon Festival Theatre
Legendary improvisational comedy
Jerry Douglas
Sa Sep 10
Colwell Playhouse
Dobro resonator guitar virtuoso
Pilobolus: Big Five-OH!
Tu Sep 13
Tryon Festival Theatre
Modern dance with stunning physicality on 50th-anniversary tour
The Joy of Regathering
Sa Sep 17
Colwell Playhouse
An exploration of our place in the cosmos through science, music, and movement
PYGMALION: Joanne Lee Molinaro
Fr Sep 23
For ticket information: thisispygmalion.com
Tryon Festival Theatre
The Korean Vegan
PYGMALION: Mwenso & The Shakes
Sa Sep 24
Colwell Playhouse
Jazz, funk, blues
Chicago Immigrant Orchestra
Tu Sep 27
Colwell Playhouse
Global music fusion
Why Not Theatre: Prince Hamlet
Sa Oct 1
Tryon Festival Theatre
Shakespeare reimagined in a bilingual ASL and English production
Alfredo Rodriguez Trio
Fr-Sa Oct 7-8
Studio Theatre
Cuban jazz, club style

Jupiter String Quartet
Sa Oct 8
Foellinger Great Hall
Krannert Center Youth Series:
David Gonzalez: Cuentos: Tales from the Latinx World
Oct 10-14
Storyteller performances
Circa: Sacre
Fr Oct 21
Foellinger Great Hall
Cirque interpretation of Stravinsky's The Rite of Spring
Los Angeles Master Chorale: Lagrime di San Pietro (Tears of St. Peter)
Sa Oct 22
Orlando di Lasso, composer
Grant Gershon, conductor
Peter Sellars, director
James F. Ingalls, lighting designer
Foellinger Great Hall
Powerful a cappella singing and movement
Vision Duo, violin and percussion: Genrefication
Su Oct 23
Seyfried: Blues Train
Curlee: Nocturnes for Violin and Marimba
Chee: Coyotes
Bizet: Carmen Fantasy
Garner: Misty
Bach, J.S.: Sonata for Violin and Keyboard in E Major, BWV 1016
Piazzolla: Histoire du Tango
Foellinger Great Hall, salon style
Chicago Symphony Orchestra
Sa Oct 29
Riccardo Muti, Zell Music Director
Xian Zhang, conductor
Simon Trpčeski, piano
Ngwenyama: Primal Message
Grieg: Piano Concerto in A Minor, Op. 16
Prokofiev: Symphony No. 6
Foellinger Great Hall
Meredith Monk: Cellular Songs
Sa Nov 5
Tryon Festival Theatre
Music, movement, and media exploration of cellular life
Jupiter String Quartet with Kenneth Olsen, cello
Tu Nov 8
Schubert: String Quintet in C major, "Cello Quintet," and other works
Foellinger Great Hall
SITI Company: The Medium
Sa Nov 12
Tryon Festival Theatre
Ensemble-based theatre company's final tour
Zakir Hussain, tabla and Niladri Kumar, sitar
We Nov 16
Colwell Playhouse
Internationally acclaimed musicians
The Nutcracker
Th Dec 1-Su Dec 4
Champaign Urbana Ballet
Tryon Festival Theatre
Jazz at Lincoln Center Orchestra with Wynton Marsalis
Th Jan 26
Foellinger Great Hall
Big-band jazz
Dublin Irish Dance
Tu Feb 14
Foellinger Great Hall
Traditional Celtic dance and music
Aizuri Quartet: The Art of Translation
Cleveland Quartet Award Winner
Su Feb 19 at 3pm
Beecher: These Are Not Estonian Flowers
Schubert: An Die Musik
Kendall: Glances/I Don't Belong Here
Schubert: Nacht und Träume
Wiancko, P.: Purple Antelope Sound Squeeze
Shekhar: Above the Fray
Schubert: String Quartet No. 14 in D Minor, "Death and the Maiden"
Foellinger Great Hall, salon style
Krannert Center Youth Series and Family performances:
Jabari Dreams of Freedom
We Feb 22-Sa Feb 25
Studio Theatre
Civil-rights era wisdom for current times
The Queen's Cartoonists
Th Feb 23
Foellinger Great Hall
Multigenerational fun featuring live music for classic cartoons and animations
Lviv National Philharmonic Orchestra of Ukraine
Su Feb 26
Foellinger Great Hall
National Theatre of Scotland: The Strange Undoing of Prudencia Hart
We Mar 1-Sa Mar 4
Studio Theatre
Immersive theatre set in a Scottish pub
Lang Lang, piano
Fr Mar 3
Bach, J.S.: Goldberg Variations
Foellinger Great Hall
Memphis Jookin'
Mar 7
Tryon Festival Theatre
Memphis dance form featuring choreographer/dancer Lil Buck
Krannert Center Youth Series and Family performances:
Cenicienta—A Bilingual Cinderella Story
Mar 21-25
Studio Theatre
A young writer finds her voice
Krannert Center Youth Series:
JazzReach: Con Alma y Fuego
Apr 4-5
Foellinger Great Hall
Multimedia Latin jazz concert
Mark Morris Dance Group: The Look of Love
Fr Apr 14-Sa Apr 15
Tryon Festival Theatre
An evening of dance to the music of Burt Bacharach, co-commissioned by Krannert Center
Krannert Center Debut Artist
Su Apr 23 at 3pm
School of Music competition winner presented in professional recital
Foellinger Great Hall, salon style
Chamber Music Society of Lincoln Center: The Brahms Effect
Th Apr 27
Brahms: Trio in A Minor for Clarinet, Cello, and Piano, Op. 114
Brahms: Trio in E-flat Major for Horn, Violin, and Piano, Op. 40
Dohnányi: Sextet in C Major for Clarinet, Horn, Violin, Viola, Cello, and Piano, Op. 37
Foellinger Great Hall
Octavia E. Butler's Parable of the Sower
Fr Apr 28-Sa Apr 29
Tryon Festival Theatre
Afro-futurist opera by Toshi Reagon + Bernice Johnson Reagon
Jupiter String Quartet with East Coast Chamber Orchestra
Tu May 2
Montgomery: Banner, and other works
Foellinger Great Hall
LYRIC THEATRE @ ILLINOIS
Lyric Under the Stars
Sep 22-24
Sunken Garden at Allerton Park and Retreat Center, 515 Old Timber Road, Monticello
A Little Night Music
Oct 25-29
Dawn Harris, director
Julie Jordan Gunn, music director
Rebecca Nettl-Fiol, choreographer
Tryon Festival Theatre
Carnaval!
Feb 21
Lobby and Foellinger Great Hall
City of Angels at the Virginia Theatre
April 13-15
203 W. Park Avenue, Champaign
ILLINOIS THEATRE
A Darkling at Nightfall
Sep 27-29
Lisa Gaye Dixon, director
Studio Theatre
Urinetown: The Musical
Nov 3-12
JW Morrisette and Lisa Gaye Dixon, directors
Joe Bowie and Lisa Dixon, choreographers
Colwell Playhouse
The Revolutionists: A Comedy, A Quartet, A Revolutionary Dream Fugue, A True Story
Nisi Sturgis, director
Nov 5-12
Studio Theatre
Theatre Studies New Works Project
Feb 11-18
Studio Theatre
The Royale
Feb 23-Mar 4
Tryon Festival Theatre
Coriolanus
Apr 15-22
Studio Theatre
DANCE AT ILLINOIS
October Dance 2022
Oct 13-15
Colwell Playhouse
Oct 12 Live Stream
Studiodance 2023
Jan 26-28
Studio Theatre
Dance at Illinois Downtown!
Mar 30-Apr 1
Virginia Theatre, 203 W. Park Ave., Champaign

SINFONIA DA CAMERA
Ian Hobson, Music Director and Conductor
Programs to be announced
Sa Sep 17
Sa Nov 12
Sa Jan 28
Fr Mar 24
Sa Apr 8
Foellinger Great Hall
CHAMPAIGN-URBANA SYMPHONY ORCHESTRA
Stephen Alltop, music director and conductor
The Beauty of Brahms
Sa Oct 1
Elissa Lee Koljonen, violin
Ranjbaran: Violin Concerto
Brahms: Symphony No. 1 in C Minor
Foellinger Great Hall
Baroque Grandeur—At Faith United Methodist Church
Nov 5
Songs of the Season
Dec 7
Central Illinois Youth Chorus, Andrea Solya, Director
University of Illinois Chamber Singers, Andrew Megill, conductor
Stephen Alltop, conductor and chamber organ
David Stech, assistant conductor
Breiner: Santa Claus is Coming to Town (Christmas Goes Baroque)
Handel: Organ Concerto in F Major, Op. 4, No. 5
J.S. Bach: Cantata No. 191, Gloria in excelsis Deo
Fry: My Dancing Day, On Christmas Night
Praetorius, arr. Naughtin: Lo, How a Rose E'er Blooming
Anderson: Sleigh Ride
arr. Naughtin: Christmas Angels Sing-Along
Handel: "Hallelujah Chorus" (from Messiah)
Foellinger Great Hall
Mendelssohn's Elijah
Sa Mar 4
University of Illinois Oratorio Society, Andrew Megill, Director
Stephen Morsheck, Elijah
Michelle Areyzaga, soprano
Leah Dexter, mezzo-soprano
Steven Soph, tenor
Mendelssohn: Elijah
Foellinger Great Hall
A Festival of Rhythm
Apr 22
Rochelle Sennet, piano
Gershwin: An American in Paris
Perkinson : Sinfonietta No. 1
II. Song Form
III. Rondo
Gershwin: I Got Rhythm Variations
Mussorgsky, arr. Ravel: Pictures at an Exhibition

School of Music concerts will be listed on KrannertCenter.com throughout the season.
Purchased tickets that can't be used may be returned by phone by 6pm the day before the performance for a full credit issued on a Krannert Center gift card that never expires and can be used for tickets, food, or beverage. On the day of the performance, please phone the Ticket Office at 217.333.6280; staff will be happy to discuss available return, donation, and exchange options.