2022-23 Krannert Center Season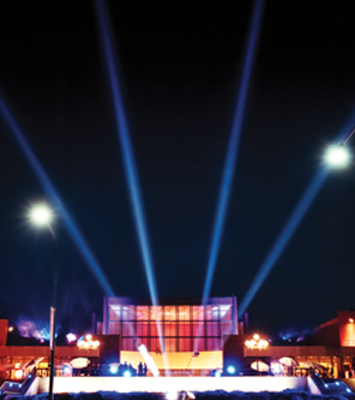 Krannert Center staff are happy to announce the 2022-23 performance season, featuring emerging artists, returning favorites, and performances previously canceled due to the COVID-19 pandemic. Events from September to May showcase national and international artists as well as university student performances in music, theatre, lyric theatre, and dance.
The year will kick off with the Opening Night Party on Friday, September 9, featuring live, free performances by Gracie and Rachel, Mariachi Herencia de México, Soul Rebels, and Cotton Candy Theremin in an environment the entire family will enjoy. The celebration continues Saturday, September 10, with ticketed events by Jerry Douglas and The Second City and free appearances by the Chad Lawson Trio.
Tickets for September and October events will go on sale to the public August 10 (online only). Beginning that date, patrons may purchase tickets for Marquee visiting artist performances including PYGMALION: Mwenso and the Shakes, Circa, Chicago Symphony Orchestra, and more. Ticket sales also begin on August 10 for Illinois Theatre's A Darkling at Nightfall, Lyric Theatre @ Illinois' A Little Night Music, and Dance at Illinois' October Dance 2022. Performance dates for the season are available now; descriptions and details will be shared as they are available.
Because of continuing pandemic effects—longer planning timelines for artists, fluctuations in community health conditions, and staff shortages—tickets will be sold for two months of events at a time, online only. All ticket on-sale dates are online at KrannertCenter.com/events/how-buy-tickets. Performances from November on include the Jazz at Lincoln Center Orchestra with Wynton Marsalis, Dublin Irish Dance, the Lviv National Philharmonic Orchestra of Ukraine, Urinetown: The Musical (Illinois Theatre), Carnaval! (Lyric Theatre @Illinois), Studiodance 2023 (Dance at Illinois), and a full spectrum of additional events.
Patrons who need assistance purchasing tickets online are welcome to email kran-tix [at] illinois.edu or call 217.333.6280 (800.KCPA.TIX) 10am-6pm Tuesday-Friday. The Ticket Office counter remains closed.
Since 1969, Krannert Center for the Performing Arts has offered a vibrant selection of music, theatre, and dance programming. Fulfilling roles as both a professional venue for internationally touring artists and a hub of education in and through the performing arts, Krannert Center works at the intersection of classroom, laboratory, and public square. Audience members from all walks of life are encouraged to experience the joy and wonder that live performances at Krannert Center can offer.
Check out the 2022-23 Season, Ticket On-Sale Dates, and COVID-19 Safety Protocols
All performance information is subject to change.
Purchased tickets that can't be used may be returned by phone by 6pm the day before the performance for a full credit issued on a Krannert Center gift card that never expires and can be used for tickets, food, or beverage. On the day of the performance, please phone the Ticket Office at 217.333.6280; staff will be happy to discuss available return, donation, and exchange options.