2017 Krannert Center Debut Artist Announced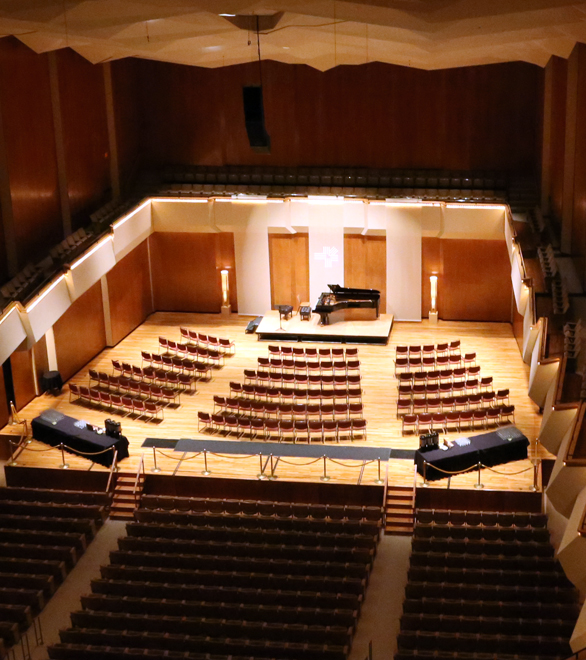 April 2017
In 1984, Dean Jack McKenzie of the College of Fine and Applied Arts recognized that the performing caliber of many students in the School of Music equaled that of some of the young professional artists featured at Krannert Center. McKenzie, at the time Acting Director of Krannert Center, and Robert Bays, then Director of the School of Music, agreed that the School of Music and Krannert Center together would choose a student through audition and that Krannert Center would present the student in recital with a full professional contract. Beginning in 1990, the Krannert Center Debut Artist recital became a part of the Sunday Salon Series, a series specifically devoted to the presentation of young artists. All Krannert Center Debut Artists, since the very first in 1984, have remained active performers and educators. For these artists, the award has carried national impact because of Krannert Center's reputation for excellence.
Soprano Yunji Shim has been selected as the 2017 Krannert Center Debut Artist. She is a third-year doctoral student in voice performance and literature at the University of Illinois, having received a master's degree in music at Eastman School of Music in 2013 and a bachelor's degree in music at Seoul National University in South Korea in 2011. Her past credits include Donna Anna in the Charlotte, North Carolina, CPCC production of Don Giovanni; scenes from Faust at the Kodak Hall at Eastman School of Music; and Ottavia in Poppea with Lyric Theatre @ Illinois. She is also a past winner of the young artist competition of the Artist Presentation Society in St. Louis and won the second prize at the Southern Illinois Young Artist Organization vocal competition. She has studied with Cynthia Haymon-Coleman, Dr. Robert McIver, Dr. Hyunju Yun, and Soonhee Lee.
On her Krannert Center Debut Artist recital, Shim will perform selections from Reynaldo Hahn, Richard Strauss, Stefano Donaudy, Luigi Arditi, Sergei Rachmaninoff, and Ernest Charles. Pianist Hana Lim will accompany her.
For tickets and additional program details visit https://krannertcenter.com/events/krannert-center-debut-artist.