OUTSIDE Save the Date: July 21!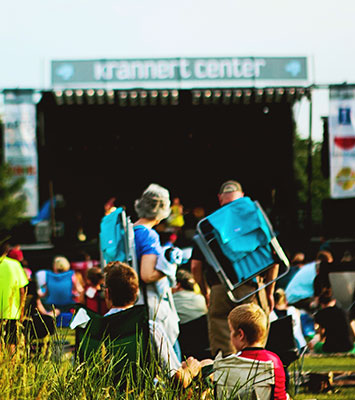 May 2017
Krannert Center for the Performing Arts once again joins forces with Fox/Atkins Development, LLC and the University of Illinois to present a FREE, live performance in the popular OUTSIDE at the Research Park series in Summer 2017. OUTSIDE at the Research Park plays upon a simple concept: great music, fresh food, and a green state of mind in an open, relaxed environment. The performance space and seating area are located just south of the Atkins Building at the corner of First Street and St. Mary's Road in Champaign. The tree-lined, grassy space has hosted thousands of audience members each summer since the inception of OUTSIDE in 2007. The 2017 OUTSIDE concert will continue to demonstrate Krannert Center's commitment to reduce waste, decrease energy consumption, and provide environmentally friendly services to patrons.
Mark your calendar now for OUTSIDE at the Research Park 2017 which will take place on Friday, July 21. Artist and community partnership announcements will be made on Tuesday, May 30.