2017 OUTSIDE Artists Announced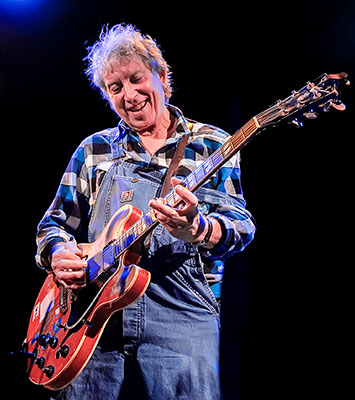 May 2017
Krannert Center for the Performing Arts once again joins forces with Fox/Atkins Development, LLC and the University of Illinois to present a FREE, live performance in the popular OUTSIDE at the Research Park series which was first founded in 2007. The 2017 OUTSIDE concert will also be an official University of Illinois Sesquicentennial event. OUTSIDE at the Research Park plays upon a simple concept: great music, fresh food, and a green state of mind in an open, relaxed environment.
On Friday, July 21, bassist Jared Manker (Mank) and guitarist Sara Siders (Sass), better known as the duo Mank N Sass, will rev things up with a mighty set of acoustic funk and gritty blues starting at 6:30pm. At 7:30pm, legendary guitarist Elvin Bishop will swing his axe with the newly formed Elvin Bishop Big Fun Trio, comprised of bassist Bob Welsh Jr. and drummer Willy Jordan. Bishop—a founding member of the Paul Butterfield Blues Band and a collaborator of John Lee Hooker and The Allman Brothers—will slide through his latest musical incarnation with an appealing mixture of rowdy blues, R&B classics, and down-home, feel-good vibes.
The July 21 event will also feature a partnership with University of Illinois Extension, the flagship outreach effort of the University of Illinois at Urbana-Champaign. UI Extension offers educational programs to residents of all of Illinois' 102 counties in five broad areas: energy and environmental stewardship; food safety and security; economic development and workforce preparedness; family health, financial security, and wellness; and youth development.
Mark your calendar for OUTSIDE at the Research Park 2017!